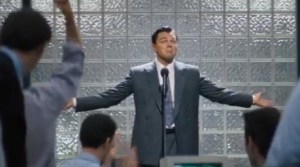 It's been several years since Bret Easton Ellis' most famous character, Patrick Bateman, relaunched the career of former Newsies actor Christian Bale and essentially turned him into Batman. So we can only imagine how Martin Scorsese's Goodfellas-esque rendition of a real-life Bateman — Jordan Belfort, the founder of 90s pump-and-dump firm Stratton Oakmont — will affect the already meteororic rise of Leonardo DiCaprio, who hasn't had a day off from a film set since What's Eating Gilbert Grape?
Here's Gatsby being great in the first official Wolf of Wall Street trailer; more fun than he's seemingly had in years and tearing as voraciously into the character of Belfort as another sort of wise guy you'd expect to see in a Scorsese film.

[youtube=http://www.youtube.com/watch?v=iszwuX1AK6A&w=560&h=315]
Unlike Psycho, Wall Street will also be helped by its good timing: Post-financial crisis, being a Wall Street fiend makes for a meatier villain than the Joker.