I visited Thomas Hirschhorn's Gramsci Monument as a skeptic. The artwork, dedicated to the 20th-century Italian political theorist Antonio Gramsci and located in the Forest Houses project in the South Bronx, sounded awfully theoretical—art meant to be experienced on paper, like something dreamt up by students of the Whitney Museum Independent Study Program. The New Yorker in me wondered if the politics of Mr. Hirschhorn's placement of high art in the South Bronx weren't condescending to our city, as if we New Yorkers lacked locally grown heroes and needed a Swiss artist to import an obscure Italian revolutionary for our collective edification.
Surrounded by rainbow-colored flags, it was initially hard to tell if I had located Gramsci Monument or stumbled across a children's birthday celebration. A sprawling, treehouse-like structure fashioned largely from plywood and packing tape, it is located in the center of 15 residential towers where the rent averages $436 a month. The Dia Art Foundation, which commissioned the project, reportedly paid residents of Forest Houses $12 an hour to build it (no construction background required).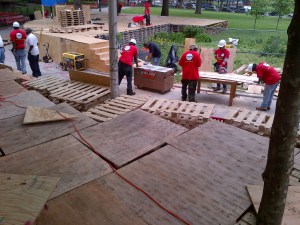 Inside, Styrofoam cups caught water percolating through the wet roofs from recent summer rainstorms, and boards creaked across the bridge joining the structure's two sections. There are computers, food, an art center replete with supplies ("flag-making class today!" read a spray-painted sign—house font style is freehand spray paint), a lecture area, and a makeshift exhibition on Gramsci, where a wooden comb, felt slippers and other items from his 1930s imprisonment are on display. In the "Internet corner," a half-dozen kids played video games. Furniture upholstered with duct tape and small AC units and fans made the rooms surprisingly comfortable despite the heat. One room holds a well-appointed collection of books lent by the Italian American Institute at CUNY's Queens College (sample title: Fascism in Italy: Its Development and Influence). In another section of the structure, editors assembled a daily free newspaper with scissors and rubber cement and a pirate radio station, modeled on Italian political pirate radio and Japanese micro radio stations, broadcast light jazz. There is an in-house librarian (Bronx native Marcella Paradise) and a cafe ($5 bought a lunch of stewed chicken and rice).
There was a full roster of activities. I had missed the morning's excursion (a field trip to Dia Beacon), but could still catch a lecture, "Art Between Immanence and Transcendence," at 5 p.m. Gramsci Monument looks less like a traditional work of art than a bustling makeshift community center.
But Mr. Hirschhorn is not putting on the kind of interactive spectacle offered by artists like Carsten Höller or often found in programs at PS1 or the New Museum. His earnest work has none of Liam Gillick's hands-off participatory pizzazz. There is instead in his project some of the omnivorous bricolage of Kurt Schwitters's Merzbau (1933) and some of the self-created street-salvaged fiction of Claes Oldenburg's The Street (1960) and The Store (1961). Mr. Hirschhorn's best-known edict, "Energy=Yes! Quality=No," captures Gramsci Monument's enthusiastic DIY aesthetic. And the project's egalitarian approach channels the spirit of the late, idealistic German artist Joseph Beuys. Here, complementing Gramsci's belief that "every human being is an intellectual," is Beuys's dictum, "Every human being is an artist." Driving this point home and echoing Beuys's policy of admitting anyone to his art academy, Mr. Hirschhorn, who is living in the Bronx all summer, is teaching art classes at Gramsci Monument every Friday, to all comers.
Mr. Hirschhorn has an admirable way with people. Although his English is not perfect, he is intensely present in every person's experience of his sculpture—making art with kids, talking about the project with visitors, fussing over the leaks in the roofs and timesheets with the staff. (He tirelessly oversees every aspect of this artwork, which seems to depend on his presence to inflect it with the intended meaning.) And the people who work at Gramsci Monument, in turn, are kind and supportive hosts to the earnest, mildly fanatical alien who has landed in their midst. In fact, his charismatic utopianism benefits unduly from his being an outsider to the forces of race and class that make a trip to the South Bronx more Bonfire of the Vanities than Art Basel for most of us. As you negotiate the encounters you have at Gramsci Monument, you are ultimately forced to question who you are and what you are doing there. This is interesting, although when you think about it, a well-meaning, idealistic and well-funded European man telling a group of ordinary nonwhite folks to work on a monument to a hero of his own choosing is really nothing new.
Mr. Hirschhorn has made monuments (and altars, and "kiosks") dedicated to other cultural and political figures, among them Georges Bataille, Baruch Spinoza, Gilles Deleuze, Piet Mondrian, Raymond Carver, Robert Walser and Meret Oppenheim. But he does not claim to be an academic or a political theorist, and he will tell you that these things are "pure art." He does what he does well—a great deal of thought has been put into the execution of Gramsci Monument, and in his work with community members there is earnestness, goodwill and genuine commitment. In its own way, his art proposes a model of resistance to dominant modes of structuring contemporary social relations. As art, it is a fascinating project. Whether or not his efforts represent or can effect real change is, of course, another matter altogether, and one on which I remain a skeptic. (Through Sept. 15, 2013)