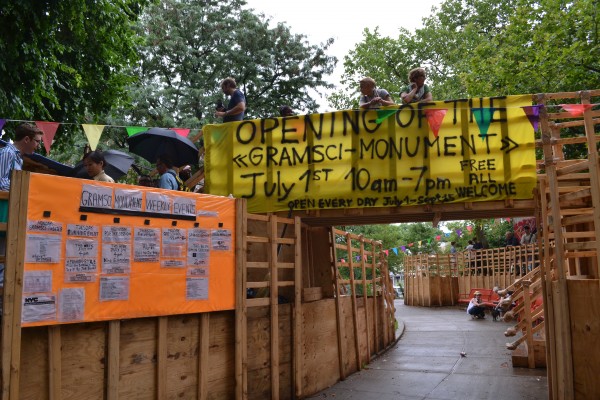 "What can I say about this here?" DJ Baby Dee, a tall man in a long white T-shirt and jeans, asked the crowd that had gathered atop Thomas Hirschhorn's Gramsci Monument in the South Bronx yesterday. He looked around at the sprawling structure, which was built in a courtyard of the Forest Houses housing projects by 15 residents in about a month and a half, using classic Hirschhorn materials: plywood, blue tarps, lots and lots of tape. "This is a beautiful thing," he said. "The museum, the arts for the children, the library, the Internet room, the radio station."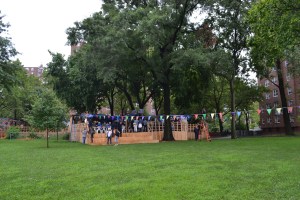 Baby Dee and a few other DJs had spent the afternoon providing the musical accompaniment—Crystal Waters, Blackstreet, Rihanna, Madonna—for the opening day's festivities, which included the performance of a play written by philosopher Marcus Steinweg, those art classes and a lecture by Mr. Steinweg, the first in a daily series will cover a wide range of topics over the next 77 days, through the end of the Monument's run, on Sept. 15, earning him, one hopes, some sort of philosophy endurance record. (Day 1: "What is philosophy?" Day 2: "What is art?" Day 32: "What is sex?") Now it was 6 p.m., time for the speeches.
"You all helped put Forest Housing back on the map," Baby Dee continued. "All the coverage and everything. It's such a beautiful thing to see how it takes one man—well, it takes two people—to help this project come up." He was referring to Mr. Hirschhorn and Erik Farmer, the president of Forest's tenant association, who had championed the project—which was commissioned by the Dia Art Foundation—after meetings with the artist. The two stood off to the side, not far from the Met's modern and contemporary art chairman, Sheena Wagstaff, MoMA PS1 curator Peter Eleey, Mr. Hirschhorn's New York dealer, Barbara Gladstone, who sported a red Gramsci Monument baseball hat, and a few dozen other curators and critics.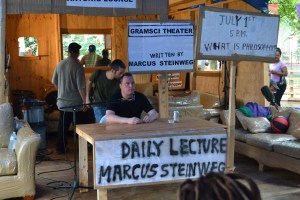 "We thought it was going to be a washout because it rained all morning," said Mr. Farmer, who has the easy charm of a seasoned politician. "Truly appreciate you guys coming out." It had poured early in the day, but by the late afternoon the rain had largely stopped, except for the occasional drizzle. He thanked Dia, the neighborhood, "and my buddy Thomas. I appreciate you, man. Thanks a lot." He grinned. "We bump heads all the time," he told everyone, "but that's my brother. Brother's fight. That's what we do." At this Mr. Hirschhorn, who was standing nearby in a blue collared shirt, its pocket stuffed with papers, and his trademark thick black glasses, cracked a smile.
"This is spectacular, it really is," Mr. Farmer continued. "The more residents I see come, they're actually astounded. They can't believe it would be this way. We did this with the guys right in the neighborhood. Some of them are here to look at their work and be proud of it."
The building itself is absolutely awesome. Along with the facilities that Baby Dee mentioned, it includes a small theater area, a newspaper production room that will produce a photocopied daily, a bridge that crosses over a sidewalk and a restaurant that serves a $5 meal each day, except Friday, when fried fish is on offer for $6.
The library has more than 500 books from CUNY's Calandra Italian American Institute. According to Dia curator Yasmil Raymond, who will be on site as the Monument's "Ambassador" throughout its run, the Institute's dean, Anthony Julian Tamburri, declared, "This sounds to me like a Gramscian act," when he first heard about the project. "He got it immediately," she said. "We knew immediately we had the first beam for building the project." In the museum section, there are papers and artifacts on loan from Italy's Casa Museo di Antonio Gramsci and Fondazione Gramsci, including the comb, slippers and wallet used by Gramsci while imprisoned by Mussolini.
"We have a lot more work to do, a long time to go," Mr. Farmer continued, alluding to all of the programming that is planned over the next 11 weeks, "but we're going in the right direction."
And then Baby Dee introduced Mr. Hirschhorn—"a very good man to know in life and everything, and in afterlife he's probably a good man to know"—and called for a standing ovation. He got it.
"Thank you, DJ Baby Dee!" the artist said in his inimitable Swiss accent.
"Say it again!"
"DJ Baby Dee!"
Mr. Hirschhorn, clearly energized, talked about the visits he made to various public housing projects throughout New York, and what happened when he first visited Forest Houses more than a year ago and spoke with community leaders Diane Herbert and Clyde Thompson. "They asked me, 'What is the benefit for our community?' And I told them, 'I don't know. I'm working for art, not for this community. And then, what was interesting, Clyde said, 'Oh, this is interesting. You don't want to work for community, you want to work for art.' And then the dialogue started. The dialogue that me as an artist comes to a community, wanting to do a work of art with a community, but not for a community. That's a difference, and Clyde immediately understood."
Eventually, he said, he was introduced to Mr. Farmer, who asked him to stage the Gramsci Monument at Forest. "I was very happy at this moment," Mr. Hirschhorn said. "This is why the Gramsci Monument is here, right here. It's not because the urban situation, not the architecture or another statistic. It's because Erik Farmer invited me to do it here with him, and he told me, 'I will help you.' This is how this works."
Mr. Hirschhorn's a veteran of such projects at this point. Gramsci is his fourth monument-installation devoted to a philosopher, and he says it will be his last. Spinoza was the subject in Amsterdam in 1999, Deleuze in Avignon, France, in 2000, and Bataille in Kassel, Germany, in 2002, for Documenta 11. Having missed those, I never thought that I'd get to visit one, much less in New York, but here it is, a 25-minute ride away from The Observer's offices in Midtown Manhattan via the 5 train.
It is easily the most energetic public artwork the city has seen in years. It remains to be seen if New Yorkers—art types and otherwise, from the neighborhood and from further afield—will visit the Monument and spend time there, if they will make use of it. On the first day, at least, kids were using every computer in the lab, and everyone was wandering around, chatting, asking questions.
You run the risk of sounding hopelessly naïve, at the very best, when arguing for the social value of any artwork, much less something as complex as the Gramsci Monument, but right now I'm excited. Everyone on opening day seemed to be ebullient and optimistic and maybe a little bit out of their element. That's how I felt, at least. It reminded me of the first day of school, and of the time I spent teaching at an elementary school, with people from various neighborhoods and backgrounds coming together in pursuit of common goals, trusting that everyone there was serious, ready to get to work and there for worthwhile reasons. And here we all were. There's a spray-painted banner hanging outside one Forest apartment that quotes Gramsci pretty aptly: "I'm a pessimist because of intelligence, but an optimist because of will."
So if you're in New York, this summer, head over to Forest Houses. Spend some time at the Gramsci Monument. Return a few times. There is a full, jam-packed season of programming planned.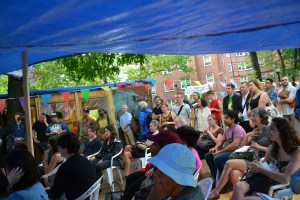 After all of the lectures, art classes, meals, discussions and other activities are over, on Sept. 15, the piece will be taken apart and given away to Forest residents. "Then the Monument, I hope, will switch over to the phase of being memory, and getting in a way into the hearts of some people here, and also of me," Mr. Hirschhorn said. One day into this stage of the project, a lot of memories are already being created.
But right now, there is a lot of work for everyone involved to do, as Mr. Farmer said, and as Mr. Hirschhorn emphasized. "Nothing is really done," he said. And this day is an exceptional day because it's the day of the opening. What counts now and what is the challenge and what is the most important thing to me as an artist is every day here to be present, and to produce…Every day we will be here. We will be present and construct and produce anew the Gramsci Monument. Because this, what you see, is not the Gramsci Monument. It is only the structure of the Gramsci Monument."