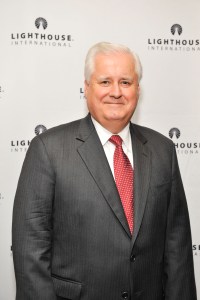 Joseph Ripp will become the new CEO of Time Inc., the company  announced on Monday. Mr. Ripp will start in September, shortly before the print division is spun off from Time Warner. Time Warner said in March that it would spin off Time Inc., the division devoted to magazines including Time, Sports Illustrated, and People.
The Time Inc. CEO at the time, Laura Lang, said that she would step down after the split. Time Warner began looking for a new CEO, a search that has dragged on for nearly five months.
Mr. Ripp  is an old hand at Time Warner, where he worked as CFO during the '90s. He moved to AOL in 2001, after Time Warner merged with the web company. At AOL, he was known for sharply cutting costs and for uncovering an accounting scandal which eventually ensnared him. (He was charged with fraud by the SEC and settled for $150,000.)
Most recently, Mr. Ripp was CEO of OneSource, an information services company that aggregates information on corporations and executives and then sells that information to salespeople and marketers.
In a statement on Monday, Time Warner CEO Jeff Bewkes praised Mr. Ripp. "Joe is a seasoned executive who has been immersed in the intersection of digital, advertising and publishing for the past decade," he said.
But Mr. Ripp may not have been Mr. Bewkes's first choice. The Wall Street Journal reported that the CEO job was originally offered to Michael Klingensmith, another former CFO of Time Inc. who's currently the CEO of the Minneapolis Star-Tribune's parent company. Insiders expected that Mr. Klingensmith would get the job, but he reportedly declined the offer, saying he had "unfinished work to do" in Minnesota.
The magazine industry is suffering, and Time Inc. is no exception. Last quarter, its revenue was down 5% and subscription revenue was down 11% compared to last year. The company is still profitable, but it won't be if current trends continue.
Time Warner—whose non-magazine divisions are far more profitable than Time Inc.—has been trying to rid itself of its troublesome magazine division for some time. In February, it tried to sell all of its magazines to Meredith Corporation, home of lifestyle magazines Ladies' Home Journal and Better Homes and Gardens. When that deal fell through, Time Warner said that it would spin off Time Inc. into its own company.
Mr. Ripp's plan for saving Time Inc. seems to be to focus all of the company's energy and revenue toward moving to online publishing.
"We're no longer going to be the magazine division of Time Warner," he told Bloomberg News. "We're not going to be a magazine company at all."