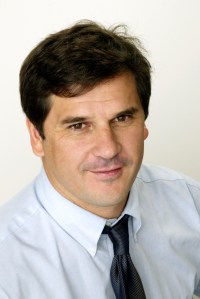 On Monday, The Santa Fe New Mexican announced that New York Times reporter Ray Rivera will take over as editor of the New Mexico paper in August. The paper's previous editor, Rob Dean, retired in early July after 21 years at the paper.
Mr. Rivera is currently an investigative reporter on the Times's Metro desk. Since arriving at the Times in 2006, he's also done a stint on the National desk, spent a year as an Afghanistan correspondent, and reported from Haiti after the 2010 earthquake.
But his journalistic roots are in the Southwest, something that New Mexican publisher Ginny Sohn told The Observer she was looking for in an editor. 
"We really wanted an editor who came with some understanding and appreciation of the different cultures and the history of Santa Fe," Ms. Sohn said. "We wanted someone in our newsroom who really wanted to be here at the New Mexican."
Mr. Rivera certainly fit the bill. He grew up in the Santa Fe area and is a veteran of New Mexican's newsroom. Mr. Rivera's first job in journalism was as a sports reporter for the community paper, The Carlsbad Current-Argus, in southern New Mexico. He then worked as a sports editor and a general news reporter at the New Mexican, the paper he'll be taking over next month. While at The Santa Fe New Mexican, Mr. Rivera's editor and mentor was Mr. Dean. The recently retired editor personally recommended that Mr. Rivera be his successor.
"One thing I've heard from many of my colleagues is that lots of journalists envision or fantasize about going back to some place they started from and running their own paper," Mr. Rivera said. "It's something I've thought about and I'm getting a chance to pursue."
Asked why he'd leave the Times for a regional daily in New Mexico, Mr. Rivera said that he relishes the opportunity to run his own paper. The Times offers unparalleled resources and reach for reporters, but the large news organization doesn't offer a staff reporter the freedom that comes with running his own newsroom.
Mr. Rivera now has his paper. The question is, can he save it? Like many regional newspapers, the New Mexican has suffered in the last few years, losing a hundred or so employees through voluntary buyouts and layoffs.
"We were hit extremely hard in the end of 2008, like all newspapers and like many businesses," Ms. Sohn said. "We spent four years addressing that and trying to really make good strategic decisions about focusing on our history, remembering why we exist."
Mr. Rivera was adamant that he does not want to lay anyone off, and he does not believe he will have to once he gets to Santa Fe.
"I didn't go there to do more layoffs, and nobody would want to do that," he said, adding that he took the job "with the thought and belief that this is a paper ready to rebuild."
Many regional papers, he noted, are "trying to cut their way to profitability," with more and more layoffs. Those owned by Advance Publications—New Orleans's Times-Picayune and Cleveland's Plain Dealer—are even cutting their publication to three or four days a week. But not the New Mexican.
"We have no plan to cut back to 3 days a week or 4 days a week. That is not part of our strategy. We believe very strongly in print," Ms. Sohn said.
Instead, the paper is rather transparently following the Times model of investing in journalism worth paying for. It introduced a metered paywall limited to 10 free stories per month—just like the Times!—in April.
"One thing I've learned from working at The New York Times—which by the way is just fabulous—is that if you're going to have a paywall, you have to have really great content behind it," he said. "You have to have something that people want to read, so they'll pay for that subscription."