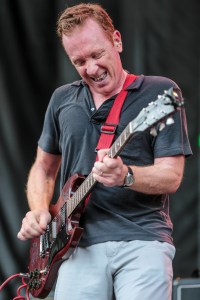 In the late '80s and early '90s, the Boston band Buffalo Tom just killed it, man. That's not just my opinion. Ask Jon Stewart, who said they were one of his favorite bands and invited them to play on the final episode of The Jon Stewart Show. Ask My So-Called Life, which put two Tom songs in its soundtrack, or Gossip Girl or The Mike O'Malley Show. Ask your ears, after you put on "Sunflower Suit" or "Velvet Roof" or "Taillights Fade" or "Sodajerk" or even their version of "Lolly Lolly Lolly, Get Your Adverbs Here."
Buffalo Tom's guiding force was singer/guitarist/songwriter Bill Janovitz, who has become a writer of non-songs, as well. His book about the way each song on Exile on Main Street is a perfect example of rock 'n' roll at its platonic level was heartfelt and beautifully rendered, earning praise from not just the music press but authors like Tom Perrota, as well. His brand new book is named after my fourth favorite Rolling Stones song and his blog, Part Time Man of Rock, reveals a diverse set of interests, including New York geography and a chilling, well-observed tale about the murder of Janovitz's uncle at the hands of a rough youngster he had taken under his wing.
Now, Janovitz comes to NYC to support his new release, Walt Whitman Mall, with something of a local supergroup in tow—Matt Lindsey on bass, Billy Ryan on guitar and Brendan Ryan on keyboards (from Planet QNS, Brothers Yee and Mad Larry, respectively). He's also alleged to be discussing Exile on WNYC but Soundcheck's website is better about featuring awesome stuff they've already run than previewing what they plan to cover, so you'll just have to cross your fingers or listen on podcast.
Bill Janovitz & Friends, Spike Hill, 184 Bedford Avenue, Brooklyn, (718) 218-9737, 11pm, Tickets $5.