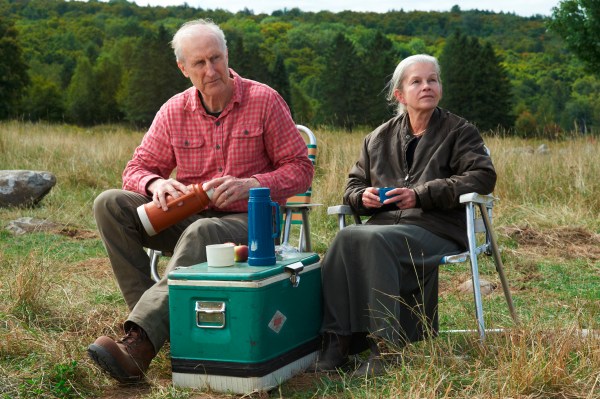 Clinging to what's left of life when the spirit is willing but the apple won't bite is the subject of Still Mine, a sensitively made, superbly acted and deeply moving Canadian film by writer-director Michael McGowan about senior citizens, in the tradition of Amour and Unfinished Song, but without the melodrama, pessimism or sentimentality. Yes, it's about the inevitable consequences of growing old, but nobody dies, and you go away energized with optimism. If you have ever had a friend, neighbor or grandparent like James Cromwell and Geneviève Bujold, you can almost look forward to being an octogenarian. They are nothing short of magnificent.
They play a real-life couple from rural St. Martins, New Brunswick, named Craig and Irene Morrison, a likable but irascible pair of farmers in their 80s, married for 61 years and still in love but forced to face some daunting truths when Irene's health fails and Craig tries to build a new home on their land that is more practical and wheelchair-accessible than the one they have lived in for generations. When the film opens, Craig is in court, charged with code violations for a new home that is in danger of being bulldozed, as well as a contempt citation for violating a court order prohibiting the building of any other structure on the property until the matters have been resolved—a charge that could land him in jail. The film flashes back to explain the circumstances that have brought him to this predicament.
Stubborn, cantankerous and solid as Sears, Craig is an old-fashioned farmer who has bucked the system and resisted newfangled nonsense such as gadgets, computers and government-controlled industrial agriculture. His wife Irene is as callused, independent and pragmatic as he is, content with their simple, untroubled rural lifestyle. But her memory is fading now. She accidentally sets fire to the kitchen, lacks the strength to turn their annual strawberry crop into salable homemade jam and forgets where the bathroom is. Passion is all but ancient history. Craig must face the encroaching responsibility of crops, diminished income, brutal winters, frozen plumbing and the cruel failure of old age. Still, leaving home is impossible, and a retirement home is unthinkable. So Craig puts his skills as a carpenter to work and, nearing the age of 90, takes on the project of building a new house with his own hands, running afoul of an unyielding building inspector who will stop at nothing to halt the construction.
"Age is just an abstraction, not a straitjacket," says the old man. But times have changed. Erecting any addition, even to your own land, requires permits, stamps, administrative fees, building blueprints and endless expenses that old people living on life savings can't afford. Every beam, joint, bolt and frame in the new house is planned according to the way his father taught him. But the bureaucrat is unyielding, Craig is undaunted and Irene's rapidly deteriorating condition is alarming. After she narrowly escapes death from a fall down the stairs, it's obvious that time is of the essence. What keeps her husband going is her unwavering optimism. "I'm worried that our life's beginning to run out," he says in a moment of candor. "No," she admonishes from her hospital bed, "I don't think so." "Oh really?  How do you figure that?" "By all rights, I should have broken my hip. That's gotta count for something, doesn't it?" How can you give up on a game old trout with that kind of moxie? So he plunges on, taking on the building commission and the zoning board, edging closer to disaster until the press steps in and makes him front-page news. How it all turns out makes for one of the most heartrending experiences of the year. Rooting for the Morrisons with tears and cheers pays off.
My one caveat is that, with the exception of one concerned but mostly exasperated daughter, the Morrisons' seven grown children rarely offer advice or even a helping hand to parents in trouble, and Irene doesn't seem to know any of them anyway. They get more aid from a young, frustrated lawyer (another wonderful performance by Campbell Scott). But the careful direction and intelligent screenplay by Michael McGowan distill every emotional detail imaginable from the relationship of a couple in their twilight years, and the chemistry between the two stars is dazzling. Ms. Bujold is right beside Mr. Crowmwell every inch of the way, touching his arm, smiling at him with that melting warmth that has always been one of the hallmarks of her career. She keeps up with his every move, but Still Mine is Mr. Cromwell's film from first scene to closing credits. Whether he is intimately tucking her into bed, chiding her gently or conducting one-sided conversations while she stares blankly into space, he is always present, alive and real, with a wealth of understated feelings. This is the greatest performance of his rich career. Not since The Straight Story, when Richard Farnsworth traveled all the way from Iowa to Wisconsin by lawn mower to see his dying brother, have the wisdom, innocence and pride of a senior citizen combined so powerfully as a metaphor for the courage to face mortality. Unforgettable.
 rreed@observer.com
STILL MINE
Written by: Michael McGowan
Directed by: Michael McGowan
Starring: James Cromwell, Geneviève Bujold and Ronan Rees
Running time: 102 mins.
Rating: 3.5/4 stars