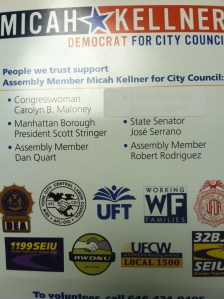 Assemblyman Micah Kellner's campaign for Councilwoman Jessica Lappin's Upper East Side seat just lost a few more supporters.
Joining Ms. Lappin, State Senators José Serrano and Brad Hoylman withdrew their support of Mr. Kellner following revelations that he had sexually harassed a former staffer.
"The news surrounding Assemblymember Micah Kellner is indeed troubling. In light of this news, I along with my colleague, Senator Brad Hoylman, will be rescinding our endorsements of Micah for the City Council seat he's seeking," Mr. Serrano said in an email to Politicker.
One high-profile backer, Congresswoman Carolyn Maloney, did not withdraw her endorsement. However, Ms. Maloney called the allegations "very serious and troubling." Manhattan Borough President Scott Stringer, after telling Politicker yesterday he was in the process of making a decision, announced today he was not backing Mr. Kellner any longer.
Mr. Kellner was allegedly the subject of a sexual harassment complaint made by a female staffer four years ago that was never referred to the Assembly's ethics committee, prompting the dismissal of a top Assembly lawyer, Bill Collins. Since then, additional sexual harassment allegations have surfaced against Mr. Kellner, though they have yet to be substantiated.
For his part, Mr. Kellner directly admits his interactions with the staffer were inappropriate, and apologizes for them.
"You know, this occurred over four years ago. It was while I was single. It occurred over a few weeks. It was inappropriate. It was stupid. And I was wrong for doing it. And when the staffer told me that she felt that it was unprofessional, I immediately stopped and regretted putting in her in that position," he told Politicker earlier this week. "I was sorry then and I'm sorry now."
Assemblymen Dan Quart and Robert Rodriguez did not immediately return requests for comment on the status of their own endorsements–but Mr. Quart was campaigning with Mr. Kellner the morning after the news broke. Several union backers, including the United Federation of Teachers, 32 BJ SEIU and the Working Families Party, did not either.
The Kellner campaign did not return a request for comment on this story.
Update (3:43 p.m.): A spokeswoman for Mr. Rodriguez said he was withdrawing his endorsement as well.
Update (5:47 p.m): This story has been updated to reflect Mr. Stringer's decision as well.