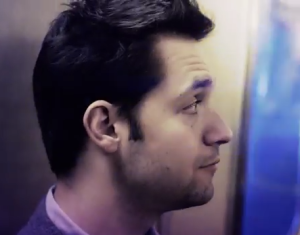 Did you wake up this morning thirsting for a Web series about startups in New York? Was your ideal host of said Web series Reddit cofounder Alexis Ohanian? When you were picturing this Web series, did you envision it with the slick production style of something created by The Verge? Well consider it your lucky day.
The Hollywood Reporter writes that Mr. Ohanaian has teamed up with The Verge to produce a 10-part Web series about the  stories "behind the early days of New York-based tech startups." Called "Small Empires with Alexis Ohanian," he described it to the trade mag as "Inside the Actor's Studio meets Dirty Jobs for tech in New York." How humble.
The companies–sorry, small empires–expected to be profiled include Kickstaster,Uber, and Etsy. Mr. Ohanian told THR that the eight-to-ten minute long episodes are going to be just the chillest:
"It's more like a couple friends just having a drink together talking about the early days," he said, adding "I want to humanize them more."
The first episode is slated to premiere July 29 on The Verge's website.