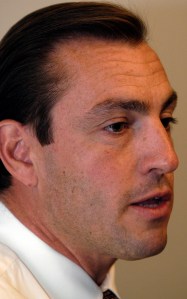 A scandal-scarred former congressman is running for mayor. A fallen ex-governor is running for comptroller. But Vito Fossella, a former congressman who has mused about his political return since becoming embroiled in his own sex scandal, says he isn't planning to follow in the footsteps of Democrats Anthony Weiner and Eliot Spitzer.
Nevertheless, Mr. Fosella, a Staten Island Republican, seemed to leave the door open to a future bid for public office. 
"I am always humbled by folks who have asked me to reconsider and run again," Mr. Fossella told radio host Curtis Sliwa yesterday. "Who knows what tomorrow brings? But for now, I look at it that the people who matter most are in good shape, that I am at a point I need to be and frankly, very simply … I don't have that desire to run right now."
Once a rising star in the Republican Party, Mr. Fossella's political career abruptly ended when it was revealed that he fathered a child with a mistress. Married with three children, Mr. Fossella did not resign but chose not to seek re-election when his term ended in 2008.
He has since briefly flirted with several other runs for office, including when the Staten Island Republican Party executive committee surprisingly endorsed him for his old job in 2010, and when incumbent GOP Congressman Michael Grimm was weathering serious campaign finance allegations last year.
The ex-congressman now has a lucrative gig as a lobbyist in former U.S. Senator Al D'Amato's lobbying and consulting firm, Park Strategies. He is also playing an active role as a booster of Republican mayoral candidate John Catsimatidis.
"I was just so privileged to represent the folks of Staten Island and Brooklyn in Congress and in the City Council. It was a great treasure and a blessing on my end," Mr. Fossella said yesterday. "And frankly, since then, I'm in a very good spot in my life."