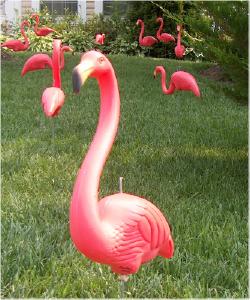 One resourceful Manhattan resident has bypassed state regulations and installed a pool on the second-floor terrace of his apartment.
DNAinfo reported that Justin Holt, 35, decided to upgrade the aqua amenities in his Murray Hill home during the recent heat wave.
Mr. Holt grew up in North Salem, N.Y., with a backyard pool. He found what was lacking in his adult life on eBay two weeks ago: an eight-foot-wide inflatable version for $70. The pool is two and one-half feet deep and can fit eight people comfortably.
"I … grew up having a pool so I know how relaxing and rejuvenating it can be to come home from work or school and take an immediate dip," he said.
To fill the pool, Mr. Holt connected a 15-foot hose to the kitchen sink in his one-bedroom apartment. The responsible pool owner has stocked up on pH-balancing chemicals and chlorinated powder to ensure the water remains "crystal clear."
The pièce de résistance of the pool is a flamboyance (yes, that's the correct term) of pink flamingos. "They dance around the pool all day. It's creepy, but in a good way."
If temperatures soar again, Mr. Holt should consider opening up his pool to the public. It would pretty much corner the waterpark market in Manhattan.
"When you're underwater, you forget you're in the city … It's a mini vacation moment," he said.
Mr. Holt claimed to have received permission for the pool from his landlord, but has not applied for an official permit – a requirement for any pool in New York City than can hold more than 24 inches of water. The authorities haven't cracked down on Mr. Holt's city oasis, as of yet. One thing's for sure: The Observer doesn't want to live in a city where an inflatable pool filled with flamingos is a crime.