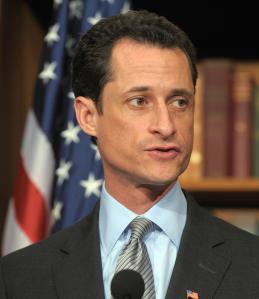 Anthony Weiner says there's no truth to a new story that claims his brother tried to silence his latest sexting partner as he ramped up his run for mayor.
Earlier this afternoon, the New York Post reported that the former congressman's brother, Jason Weiner, had reached out to Sydney Leathers to see "if she was going to be a problem," in the words of the young women's friend, Lou Colagiovanni.
"She was scared, and very shaken. She got freaked out," Mr. Colagiovanni reportedly recalled. "She had never met the brother, and here he was contacting her. She had never spoken with him before. She told me about her affair, and that she thought they were trying to find out who they needed to keep quiet."
Mr. Colagiovanni further claimed that it was clear Jason Weiner had reached out at the behest of his brother, who is now, of course, running for  mayor of New York City while attempting to repair his battered political brand.
However, asked about the report today at a press conference on the South Shore of Staten Island earlier today, Mr. Weiner categorically denied its contents.
"That's absolutely not true, never did in any way," he said when asked whether his brother had reached out on his behalf.
Mr. Weiner was also pressed on Ms. Leathers, who has told reporters she is "disgusted" by him now. As he is want to do, Mr. Weiner refused to answer the question, replying with one of his stock lines.
"I have no response to any people who put out information that they want to put it," he said "It's their decision. I'm certainly not going to do it. I don't have any response to it."