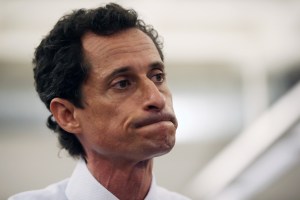 Former Congressman Anthony Weiner may be owning up to his latest sex-messaging scandal. But his alleged secret online handle? Not quite.
Mr. Weiner dodged a question tonight about the name he reportedly ascribed to himself while engaging in his most recent explicit online chatting sessions: "Carlos Danger."
Politicker asked Mr. Weiner why he chose the moniker as he was exiting a mayoral forum on HIV/AIDS following a dramatic press conference during which he admitted to engaging in lewd online conversations more than a year after his resignation, and after proclaiming himself a different person in People magazine.
"I don't know what you're talking about," Mr. Weiner responded, before being rushed out of the room through a private exit, trailed by a gaggle of press.
The gossip website The Dirty, which posted the transcripts of the alleged exchanges, reported Mr. Weiner had used the handle "Carlos Danger" throughout his conversations.
In a statement this afternoon in response to the posts, Mr.Weiner specifically noted that "some things that have been posted today are true and some are not."
He declined to clarify which parts during his press conference, telling reporters, "I'm not gonna get into a back-and-forth with people who are releasing things whether they be true or not … I am prepared not to dispute anything that is out there. But suffice it to say that people are out there saying things that are not true."