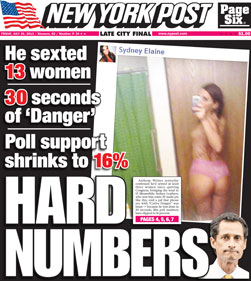 The "slutbag" incident was not Anthony Weiner's spokeswoman's first go-around with on-or-off-the-record disputes with reporters.
Barbara Morgan, the mouthpiece for Mr. Weiner's embattled mayoral campaign, appears to have disputed a Friday New York Post account that had her berating a reporter by asking, "Do you even fucking know how Facebook works?"
That line was eventually removed from the article, but many excerpts and countless tweets of the quote remain elsewhere. A Post story today may shed some light on what happened, however.
"Last week, an incensed Morgan called Post reporters and editors and unleashed several expletive-laden rants on Weiner's behalf," the paper reports. "She later said her curse-filled diatribes were 'off the record.'"
Ms. Morgan, of course, drew national headlines when she apologized after a Talking Points Memo reporter quoted her calling an ex-intern a "cunt" and a "fucking slutbag." She later said she thought she was off the record but TPM insists she was not.
Either way, it never hurts to give a reporter an extra "off the record" notice before calling someone a slutbag.
Disclosure: The TPM reporter who wrote the original story, Hunter Walker, previously worked for The New York Observer.