On a recent summer Saturday afternoon, the weather is perfect but the South Street Seaport's so-called Tourist Alley is devoid of tourists. Nearly eight months after Sandy ransacked the area, its tent-pole businesses—Abercrombie & Fitch, Ann Taylor, Brookstone—remain closed.
Over at Pier 17, at the widely loathed third-floor food court, Arthur Treacher's and Subway do a brisk business. A thousand little Statues of Liberty glimmer beneath fluorescent lighting.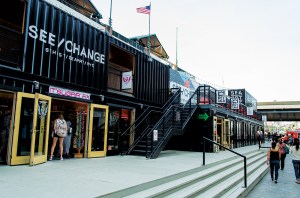 Walking back across South Street away from the pier, you pass a row of shuttered businesses—from Heartland Brewery to the Seaport Museum—with interiors obscured by vinyl decals. The modest signs of life present sprout from a cluster of open-air vendors and venues mostly imported from Williamsburg and Fort Greene, grassroots businesses among the Seaport's polished cobblestone.
At the intersection of Fulton and Front Streets, a putative deejay taps at her iPhone while playing ambient techno off her MacBook to a small crowd on Front Row Cinema's miniscule patch of Astroturf. A string of trendy food vendors under the aegis of SmorgasBar hawks lobster rolls, miso soup and "handcrafted" grilled cheeses, as if there were another way to make them. Two blocks from the Pier 17 Nathan's, Asia Dog slings kimchi- and seaweed-flecked franks.
SmorgasBar, Front Row Cinema and shipping container pop-ups are parts of what Seaport operator Howard Hughes Corporation has termed See/Change. The pun, splashed all over the South Street Seaport's Tumblr-esque website, is no overstatement: the city-owned Seaport is on the verge of its biggest overhaul since Rouse debuted a new, $351 million (nearly $800 million in today's dollars), four-square-block complex here 30 summers ago.
Howard Hughes's long-gestating plans for a Seaport remake came into focus earlier this year, when the Department of City Planning approved plans to replace the existing Pier 17 with a glassy three-story complex designed by stylish SHoP Architects (of Barclays Center fame). Between the new pier—due to open in 2015—and the "uplands" west of the FDR Drive, the $200 million project encompasses 365,000 square feet of retail space.
And although it's early to say with certainty which retailers and restaurants will populate the overhauled Seaport, this is the final summer for Pier 17's cheesy existing tenants, which will vacate by September. It's also unclear whether this ragtag, DIY summer is a transition to hipness or a placeholder, with another round of mass-market chains waiting in the still-soggy wings for a permanent home on the East River.
Will the Seaport, and especially Pier 17, ever be a place that New Yorkers embrace? Will it become "cool," with Asia Dog and outdoor cinemas gaining a permanent foothold? That's the question on the minds of a mushrooming residential population—the number of people living in lower Manhattan has doubled to more than 60,000 since 9/11—longtime business owners, and real estate developers and brokerages with a stake in the area.
The Howard Hughes reimagining certainly has its skeptics, chief among them Robert LaValva, a Seaport fixture since he launched the popular New Amsterdam Market, a green market, on South Street in 2005. Mr. LaValva, called by one prominent resident "the soul of the neighborhood," is an outspoken critic of See/Change.
"It will be a 2015 version of a 1985 concept," said Mr. LaValva. "Look, shipping containers are already a little passé."
Mr. LaValva points to the Howard Hughes Corporation's biggest projects, Truman Show-esque planned communities outside of Houston and Las Vegas. "Howard Hughes isn't just suburban," said Mr. LaValva. "Its mentality is as a builder of master planned communities, lifestyle centers where everything is prepackaged and formulaic. They have absolutely zero concern for anything civic-minded."
Mr. LaValva has reason to fret: his locally beloved outdoor grocery market may not find a home in the new Seaport. In March, the City Council approved plans for a 10,000-square-foot public market in the Seaport's Tin Building—where he is not applying for space, due to its prohibitively small size. (Mr. LaValva maintains that he requires  50,000 square feet.)
His dog in this fight aside, the Seaport has a history of unmet expectations. Rouse had brought mainstream commerce to derelict waterfronts in Boston (Faneuil Hall) and Baltimore (Harborplace) when the Seaport shops opened for business. Reporting on the rollout in July 1983, The New York Times noted the disparity between "the new retailers, with their air of Upper East Side chic, and the wholesale merchants of the Fulton Fish Market."
The massive project, along with the new Battery Park City and a spate of fresh office towers, seemed destined to redefine lower Manhattan. But the Times described "a marriage of convenience, with little evidence of affection."
Preservationists balked at Rouse's "sanitizing" of an "indigenous" area, with the pungent fish market at its core and a handful of artists and old-timers throughout. Visions of a thriving shopping destination quickly proved fleeting. 
By January of 1984, sales figures objectively painted Seaport retail as, in one tenant's words, "an unmitigated disaster." And while the inevitable growing pains may have subsided, any veneer of Madison Avenue sophistication dissipated.
For decades, New Yorkers mostly ceded Pier 17, if not the bulk of the Seaport, to tourists. The same City Hall development policies, real estate market forces and retailers that suburbanized Times Square, Columbus Avenue and broad swaths of Soho transformed one of lower Manhattan's most historic, picturesque pockets into a briny, fishy White Plains Galleria.
There have been repeated efforts to bring a counterweight of culture to the mall.
In 2002, in an effort to enliven the neighborhood after the 9/11 attacks, The Seaport Music Festival brought a hint of edge to what had become a fuzzy Q-tip jutting out into the East River. Festival organizer Stephen Dima convinced bands accustomed to the Bowery Ballroom—Ted Leo, The Polyphonic Spree, Clem Snide—to play a consummate tourist trap.
Even as seasonal concert lineups brought rock kids within terrifying proximity of Abercrombie, the Seaport lost a 183-year-old gem in 2005 when the Fulton Fish Market moved to Hunts Point in the Bronx.