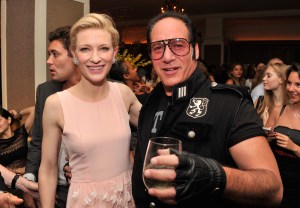 "I'm in the south of France, so I can't be there this evening," began a note from Woody Allen that was read aloud before Monday night's Peggy Siegal Company screening of his latest film, Blue Jasmine, at MoMA. "I only wish I was in New York and couldn't be there."
This fits the notoriously press-shy director's M.O. During last summer's premiere of To Rome, With Love, Mr. Allen braved the crowds for the red carpet before beating a hasty exit through some shrubbery to avoid the paparazzi, a feat that many of Jasmine's stars can probably relate to.
"Jesus Christ," muttered Louis C.K. as a rogue photographer broke ranks and began flashing blindingly bright lights into the corner where he and his former Parks and Recreation co-star Amy Poehler had sequestered themselves before the film. "Can you believe her?"
Ms. Poehler, in a somewhat more jovial mood, continued regaling the comedian with the story of her recent chat with President Barack Obama.
"He said, 'Sasha and Malia just love you,'" Ms. Poehler informed Mr. C.K.
"Wait, who and who?" the Louie star deadpanned. "Okay, so what did you say?"
"I said, 'Well, I love them!'"
"And then what did he say?"
"He said, 'I love them too.'"
Ms. Poehler's tale was interrupted as Solange Knowles swished by, almost unnoticed, before dropping a large, jewel-encrusted earring on the ground. Smelling a wardrobe malfunction, photographers immediately began to swarm and shoot, at which point the two comedians beat a hasty exit into the theater, followed by Blue Jasmine star Cate Blanchett, whose giant pink ball gown was all the better to create a racket with when she tried to leave the screening two minutes in.
Alec Baldwin was in attendance, though he must have taken a tip from Woody: when his name was called during the preshow program, he was nowhere to be found. Maybe all of the director's neuroses had rubbed off on his cast.
The celebrities were more relaxed at the after-party, held at Harlow. Adrian Grenier, looking debonair in Pac-Sun-inspired plaid shorts, demurred on the topic of his recent documentary that premiered at Tribeca, but scribbled down an email address for us in case we were interested in hearing more about his collaboration with bands like the Skins.
Discussing the film's devastatingly dark performances in a nearby booth, actress Lily Rabe was saying that throughout the movie she had been distracted by the nagging sense of familiarity she felt toward Ms. Blanchett's haughty, emotionally unstable protagonist.
"Then I realized, 'Oh, she reminds me of me.'"
"You do kind of look like her," a young playwright added helpfully. "Kind of around the face?"
Not everyone was in such an introspective mood. Andrew Dice Clay, excellent in the film as the rough-edged first husband of the protagonist's sister Ginger (played by Sally Hawkins) strutted around with his wife, a young woman sporting a tattoo of one of the Powerpuff Girls on her shoulder and two-inch-long acrylic nails, which she claimed were "usually twice as long."
The Transom asked if she did nail art professionally.
"No, I do hair and makeup," she said, before adding, "I actually did Andrew's makeup tonight."
The Diceman's spidey-sense must have tingled, because he quickly called his young bride away from the circle of grinning journalists.
"Hey, I was just kidding!" she called nervously over her shoulder.
Not so fast: we stopped Mr. Clay and asked if he ever in a million years thought he'd one day find himself acting in a Woody Allen movie.
"Never. God no!" he said, echoing the surprise many felt at seeing the iconic '80s stand-up's name in the opening credits. "But you know what?" The Diceman leaned in close enough for us to get a whiff of his leather jacket. "Now that I have, I'm really glad I did."