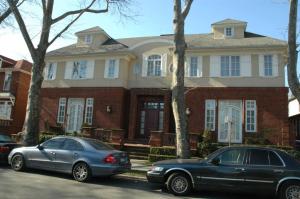 If you have five million dollars and change burning a hole in your pocket, New York City offers you a wealth of options for stashing your cash. You could buy a five-story renovated townhouse in Kips Bay, or a three-bedroom in a new condo building at 85th and Lexington, with $800,000 left over for renovations. You could get a 2,200-square-foot condo in a historic Morris Adjmi-renovated building in Tribeca, or a brand-spanking-new five-level townhouse in Dumbo.
But if you're of Sephardic, and especially Syrian, descent, with a multiplying brood, you might decide to skip all of that noise and head to Gravesend.
That's what Mordechai (who works in real estate) and Rachel Piller (whose occupation we could not determine) did, picking up a massive single-family home at 1504 East 7th Street in Brooklyn for $5.32 million. They bought the property from Monica Cohen, who at one point ran a store called Aqua Jewels on nearby Coney Island Avenue, and her husband David (whose parents wisely chose a name that would be immune from The Observer's snooping).
What's incredible about the sale, though, is how ordinary it is for the neighborhood: it's less than half the Gravesend record, which 450 Avenue S set ten years ago when it traded for $11 million.
But the house is no slouch. Perhaps because it sits on the slightly less desirable eastern side of Ocean Parkway—with the western side being "the equivalent of Central Park or Riverside Drive" to the Syrian Jewish community, according to one broker—the buyers got a huge hunk of house for their money: 8,200 square feet, according to city records. (As with most transactions in the elite Sephardic enclave, this one was not publicly listed.)
And while most buyers wouldn't be terribly interested in tearing down such an enormous home, rebuilding is very common among those who purchase multimillion dollar homes in Gravesend. Because the lot has a roomy 80 feet of frontage and extends back 110 feet, the buyers could raze the existing structure, built in 1994, and replace it with one up to 11,000 square feet, if they so choose.