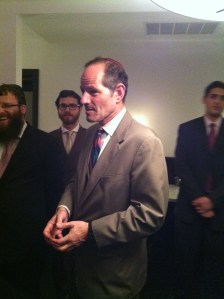 On the same day that a leading mayoral candidate hit the campaign trail for the Orthodox Jewish vote at a pizzeria in the Boro Park neighborhood of Brooklyn, ex-Gov. Eliot Spitzer took his own front-running comptroller campaign to Basil, a kosher pizza restaurant in Crown Heights.
Sporting a yarmulke and a particularly festive tie, Mr. Spitzer deftly juggled social niceties with hardball policy issue talk, all the while expressing confidence in his chances of winning the Democratic primary–just two weeks away.
"It's a bucking bronco," Mr. Spitzer said Monday of the competitive race. "But I think I'll survive. The numbers are good."
During his brief stay in the low-lit room, Mr. Spitzer took a few questions, ranging secular topics like union contracts to Jewish issues, such as the high cost of religious Yeshiva schools.
Mr. Spitzer's answers were long-winded. In response to whether he'd make an all-out effort to reduce the cost of Jewish religious schools, he replied, "What we were able to do when I was governor, which is … take what had been a static set of rules about funding of nonpublic schools and see if there was a way to pay your property taxes. Property taxes that go to public schools don't help defray the cost of the Yeshiva education, which is why the cost of the Yeshiva is so high."
"We did what could be done," concluded Mr. Spitzer, who, like his opponent, Manhattan Borough President Scott Stringer, is Jewish.
However, when resident Shumel Katzenellenbogen asked whether Mr. Spitzer would ever make an endorsement in the mayor's race, the former governor was uncharacteristically brief.
"That's easy: no," he quipped.
Despite Mr. Spitzer's efforts to adroitly speak to the issues, those who asked the questions weren't completely sold.
"I think he answered my questions well," said Mendel Engel, who asked the Yeshiva question. "However from his answers, it didn't seem like he was going to go the extra step."
Mr. Engel said he hadn't yet made up his mind about the comptroller's race, but said that the prostitution scandal that forced Mr. Spitzer to resign five years ago could influence his consideration.  "The litmus test to whether I want to appoint someone in office or not is whether we're going to benefit out of it," he told Politicker. "But if I don't  see any physical benefits, I would say that there's no reason I should put my vote for somebody that disgraced the office."
Mr. Katzenellenbogen was equally uncertain, noting that Mr. Stringer had done a good job as Manhattan borough president.
For his part, Mr. Spitzer feigned disinterest when asked a question about Mr. Stringer.
"I don't want to talk much about Scott–very nice good person," Mr. Spitzer told the room dismissively, before proclaiming himself the more qualified of the two.