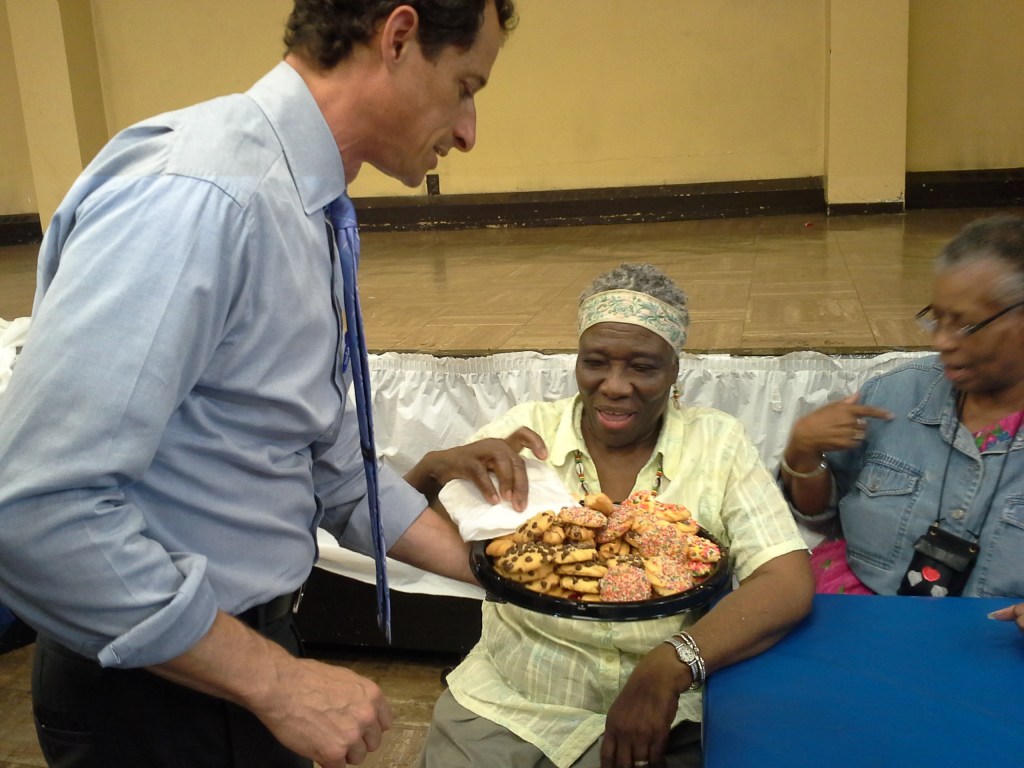 Anthony Weiner came bearing treats.
The ex-congressman brought his embattled mayoral campaign to Brownsville, Brooklyn today, chatting with seniors while toting a large plate piled high with sugar cookies.
"You know what they say, beware of politicians bearing sweets," Mr. Weiner said, as he carried the cookies through the Rosetta Gaston Senior Center, nestled among looming public housing buildings and an elevated train. (He successfully implemented the same cookie strategy earlier this week in Queens.)
The seniors, seated at tables for lunch, smiled and indulged Mr. Weiner, gabbing with him about his campaign and bonding over the foibles of child-raising.
"He's not much of a baby anymore … he's running me ragged," Mr. Weiner said of his oft-mentioned, 19-month-old son, Jordan, who has appeared several times on the campaign trail. "So, the new thing for him is that he learned the word 'corner.' When you live in an apartment, you have corners everywhere. So he runs around the house saying, 'Corner, corner, corner.' After about an hour it wears you out a bit."
As Mr. Weiner made his way around the room, reporters and photographers swarmed, continually snapping pictures as he spoke.
"Will I be on the evening news?" one woman, sitting at the edge of the room, asked.
Along with a stop in Harlem later today, the visit to predominately black Brownsville allowed Mr. Weiner to campaign in territory that has generally been less hostile to his campaign. While public polling data shows many white voters have abandoned his candidacy, black voters have tended to prove more loyal. The seniors in Brownsville were no exception, exhorting Mr. Weiner to continue running despite a host of rivals, pundits and editorial boards calling for him to bow out of the race.
"I like Mr. Weiner, I think he deserves a chance. Everybody makes mistakes in their life," said Keith Floyd, a chef at the center. "I think he's more down to earth. I believe he's totally genuine."
Several seniors and workers at the center beamed at Mr. Weiner, telling him they hoped he would win. At least here, Mr. Weiner's redemption narrative appeared to be enticing.
"All of us have sinned, none of us are perfect," said Kattie Hayes, a Crown Heights resident who frequents the center.
"As long as he is doing what he has to do to take care of that," she said, "and let that not be a hindrance to him if he becomes mayor, then that's okay."