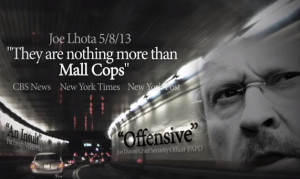 With just over two weeks to go before they face off in the September 10 Republican primary, John Catsimatidis and Joe Lhota have taken their battle to the air.
Mr. Catsimatidis, a billionaire who is self-financing his campaign, recently suggested that he would avoid dropping "nuclear bombs"–his word for attack ads–unless his GOP rival, Mr. Lhota, went negative first. But it seems Mr. Catsimatidis has decided to drop them anyway.
On Friday, Mr. Catsimatidis released two aggressive ads and today rolled out a third–his hardest-hitting one to date. The latest zeroes in on Mr. Lhota's "mall cop" gaffe directed at Port Authority police.
"I was in Tower number one," port authority inspector John Kassimatis declares, accusing Mr. Lhota, who has apologized for the remark, of disrespecting 9/11 first responders. "So when a bureaucrat like Joe Lohta calls me a 'mall cop,' he offends every police officer."
Meanwhile, the Lhota campaign released its own ad Friday evening responding to the attacks with Mr. Lhota's old boss, former Mayor Rudy Giuliani.
"I just can't stand by any longer and watch a great leader be so wrongly attacked," Mr. Giuliani says in the Lhota ad. "Joe's opponent's negative attacks are false, they're desperate and they're just plain wrong."
The Lhota campaign pointed to their Giuliani ad when reached for comment on today's attack.
Watch both ads below:
[youtube=http://www.youtube.com/watch?v=kFtQvf7kjU8&w=420&h=315]
[youtube=http://www.youtube.com/watch?v=ySuo3bsCNAc&w=420&h=315]