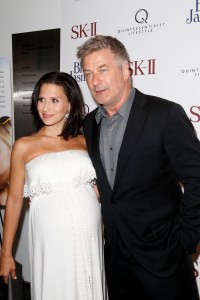 Alec Baldwin has gotten into another physical altercation with a photographer trying to snap his picture, reports TMZ. But this time, at least, nobody is pressing charges.
Mr. Baldwin was out and about with his wife, Hilaria Thomas, when the notoriously volatile 30 Rock actor got into a confrontation with a photographer. Ms. Thomas, who gave birth last Friday, was forced (forced!) to duck into a nearby tea store to avoid the pap. 
"What kind of sick twisted psychopath chases a woman who just got out of the hospital from having a baby into a tea store?" a friend tells TMZ. What kind indeed? Good thing the tea shop was nearby to provide a safe haven.
Although Mr. Baldwin and the photographer decided not to press charges and both claimed responsibility for for "pushing and shoving each other," it isn't, of course, Mr. Baldwin's first run in with camera wielding reporters.
In February, Mr. Baldwin landed on the front page of The New York Post after he (allegedly) told Tara Palmeri that he wanted the Page Six reporter to choke to death  in response to a request for comment on a lawsuit, and then made racist comments to the Post photographer. The cops came and the actor and the photographer filed dueling harassment claims. Mr. Baldwin later tweeted about the incident.
But don't expect Mr. Badlwin to tweet about the incident. Presumably, he has learned that lesson.
Mr. Baldwin claimed he was deactivating his Twitter account in June after he went on a social media-fueled tantrum that turned increasingly violent and homophobic against a Daily Mail writer who erroneously reported that Ms. Thomas had tweeted during James Gandolfini's funeral (the reporter seemed to have gotten the time stamps confused). The following day, Mr. Baldwin sort-of-apologized in an interview with Gothamist (while offering some trenchant media criticism).
Hopefully, the tabloids will have some fun tomorrow.