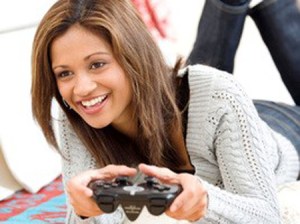 The next time someone calls you the c-word on XBox Live, politely remind them of this neat little factoid: nearly half of all gamers are actually women, according to a new report published by CNN.
The report, crafted by the Entertainment Software association and titled "2013 Essential Facts About the Computer and Video Game Industry", states that "45% of all game players, and 46% of the most frequent purchasers of games, are female. Adult women make up 31% of the game-playing population."
The report points to shifting cultural attitudes about video games, including the fact that non-gamers no longer see video games as a fringe activity since "being a geek has become something to be proud of." A larger number of video games that offer strong female lead characters could also be pushing the uptick.
The report has naturally been received with a healthy dose of skepticism. One commenter on the CNN story pointed out that this survey accounts for "mobile games [and] little games on Facebook."
"i am not saying you cant play them but i will not call you a gamer because you play candy crush saga," he or she wrote. Okay, but what about Dots?
Of course, just because more and more women are picking up the controller doesn't mean attitudes toward them in an area that's notoriously a boys' club have changed all that much.
"There are more women over 18 playing games now than boys under 17," Collen Hannon, an editor for Gamers With Jobs, told CNN. "But you wouldn't be able to tell by the contents and comment sections of most game publications, the language/behavior of their fellow players online, or the game design, marketing materials and tactics of most game publishers and developers."