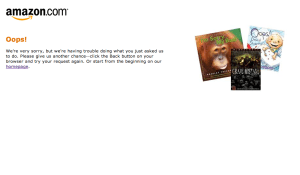 The Amazon website went down this afternoon, but is since fixed.
For around twenty minutes, typing in "Amazon.com" resulted in a message that said: "Oops! We're very sorry, but we're having trouble doing what you just asked us to do. Please give us another chance–click the Back button on your browser and try your request again. Or start from the beginning on our homepage." Eventually, giving the site a second chance worked.
However, Amazon was kind of well-prepared, from a graphics persective. An image that illustrated the service failure message featured three titles Oops (a picture book), I'm Sorry…My Bad! (also a picture book) and Grave Mistake (which looks like a YA book).
Although the Twitter reaction was not nearly as frenzied as last Wednesday when the Times site was down, there was some sarcastic tweets informing the Amazon-less that they could buy books from independent bookstores.
There were definitely some Washington Post jokes to be made. But we'll leave that for Twitter.