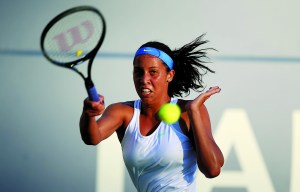 Having reached No. 4 in the world and coached superstars like Andy Murray, Andy Roddick and Andre Agassi, Brad Gilbert clearly knows a thing or two about tennis. So when he declares that Madison Keys "unquestionably" has the potential to become America's first major champion in a decade not named "Williams," one ought to take notice.
"I think she can be top-five and maybe even higher," Mr. Gilbert said. "I judge it on the eye test, which for me is her size, her athleticism and her weapons. Everybody knows her potential, but, if you're asking me, she has serious potential."
Those are bold words regarding a player who's yet to progress further than the third round of a Grand Slam. But at just 18, Ms. Keys is already a player who strikes fear into the best of opponents. Standing 5-foot-10, she's tall enough to possess a monster serve and menacing groundstrokes yet still has the balance and court coverage necessary to compete with supreme athletes like Li Na and Agnieszka Radwanska.
It's simply a matter of putting it all together. On days when she does, Ms. Keys can be devastating. (She handed a shell-shocked Ms. Li a straight-sets thumping in May, dropping just five games against the world's No. 5.)
Eighteen-time Grand Slam champion Chris Evert has been mentoring young hopefuls at her Boca Raton academy in Florida for some time, and, having observed Ms. Keys daily in practice, she knew such a performance was just around the corner.
"She definitely has the weapons to be top-five," Ms. Evert told the Transom. "She actually has the weapons to be No. 1. Out of all the players out there, she comes the closest to Serena's serve as far as power."
But Ms. Evert advises tempered expectations. After all, Melanie Oudin seemed destined to be a future star after reaching the U.S. Open quarterfinals at 17, and she has since sunk without a trace.
"There's so much more that goes into it than just weapons," Ms. Evert added. "That's the mental side of the game, which really hasn't been tested, because she's an up-and-coming player and she has no pressure when she's playing players like Li. But of all the young Americans, I have to say she, even more than Sloane Stephens, has the potential to be top-10."
For many years, the success of the Williams sisters has masked a rather bare cupboard for American women's tennis. But right now, there's an abundance of young talent with Ms. Keys, Ms. Stephens, Jamie Hampton and Lauren Davis, all of whom have impressed so far this year.
"I think we really motivate each other and want each other to do well," Ms. Keys said.
Such a statement is often made behind gritted teeth in the women's game, but, while the Williams sisters have always had a "them and us" mentality, there seems to be a genuine sense of camaraderie among this new generation.
"We're all very close," Ms. Keys continued. "We like to hang out and talk to each other around tournaments. It's just nice to have a big group to see every week."
For a moment, the young phenom may sound no different than an average high-schooler, but she's quick to point out that as soon as they get on court, it's dog eat dog, and already there are intriguing rivalries developing. (Ms. Hampton and Ms. Keys played an epic three-setter earlier this summer, for instance.)
"When it comes to being on the court," she said, "we all just want to win."