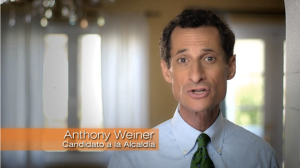 With less than three weeks to go until the Democratic mayoral primary, the candidates are hard at work trying to court the Latino vote.
Today, in another sign the vote remains up for grabs, former Congressman Anthony Weiner and former City Comptroller Bill Thompson both released Spanish-language television advertisements–the first of the mayor's race.
Mr. Thompson's ad, called "Amigo," features a voice-over from former mayoral candidate Fernando Ferrer, a prominent endorser of Mr. Thompson's bid for office.
"When I was president of the Board of Education, Bill supported our schools and when he was Comptroller, Bill invested in affordable homes and businesses of our people," Mr. Ferrer says as images of Mr. Thompson interacting with children and voters are displayed. A chorus of horns peppers the soundtrack.
Mr. Weiner's ad is entitled "El Futuro" and begins with a close-up of his animated face. It features flitting flamenco-esque guitar music and a list of policy positions rolled out by the candidate in recent weeks as he has tried to move past his latest sexting scandal.
"Restoring discipline in our schools," reads one title, as footage rolls of Mr. Weiner talking to voters. The advertisement ends with footage of Mr. Weiner at a recent Dominican parade at which he took some widely noted photos with plantains.
And yes, the Carlos Danger jokes were impossible to avoid on Twitter when politicos first received links to the Weiner ad via email.
Watch both commercials below:
[vimeo http://www.vimeo.com/72591261 w=500&h=281]
[youtube=http://www.youtube.com/watch?v=R0UmTHVkE_0&w=420&h=315]