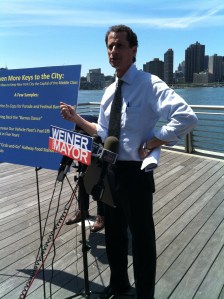 As Anthony Weiner continues to try–and often fail–to pivot the media conversation away from his sexting scandals, he released a sequel to his "Keys to the City" idea book today. The new one is creatively entitled: "Even More Keys to the City."
At a gusty afternoon press conference on a Queens pier overlooking the East River, Mr. Weiner made the case for his esoteric proposals, accompanied by his spokeswoman making her first foray to a public event since her now-infamous "slutbag" rant.
The 61 ideas in the booklet itself are wide-ranging, from ending arrests for small amounts of marijuana to a ban on tourist helicopters. Today, however, Mr. Weiner chose to spell out four particular issues: hiring ex-cops for parade duty, bringing back the "Barnes Dance" (pedestrians walking in all four directions at intersections), increasing vehicle fleet fuel efficiency by 30 percent in the next five years and establishing "grab-and-go" food stands in school hallways.
Addressing why he chose to deliver the ideas at this point in time, as opposed to lumping them in with his first book, Mr. Weiner replied, "I had too many of them. I didn't think you can handle all 125 at once."
When Politicker asked him if he had plans to release another book in the future, Mr. Weiner didn't give a clear answer. "Maybe, maybe," the combative former congressman said. "We're going to give you a quiz on this one and if you do well enough, maybe we'll distribute a third."
Yet, when it came time for Mr. Weiner to be quizzed on his own ideas, he often found it difficult to respond with explicit, fleshed-out detail.
For instance, pressed on what he could do as mayor to enforce his new policy of eliminating low-level marijuana arrests, Mr. Weiner was confident that he'd have complete control of the police department but couldn't provide the threshold amount of marijuana possession that would no longer be considered a criminal act.
"I can tell my police officers and my police commissioner, that's not a priority for this administration," he proclaimed. "Very rarely do you catch a master criminal that way and I think that all it is is creating more attention."
When the conversation with the media devolved into questions about his scandal-ridden campaign, Mr. Weiner continued to posit that people are not concerned with candidates themselves, but rather ideas. A reporter asked whether the fact that people want to take photos with him runs counter to this notion.
"You somehow have divined what citizens want when they talk to me," Mr. Weiner snapped back. "I'll leave it to them to tell me what they want."
View the full booklet below:
[scribd id=158257600 key=key-1f5avehuf5c6t1ax0ysk mode=scroll]