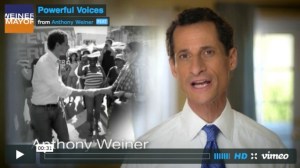 Mayoral contender Anthony Weiner is set to hit the airwaves Monday with his first televised ad, which he sent out to his supporters early this morning.
"Our campaign has had policy speeches, idea books and lots of community meetings. Now we have a TV commercial. The first look is yours," Mr. Weiner wrote in a post-midnight email to supporters titled, "Sneak Preview."
The 30-second spot features Mr. Weiner speaking directly to the camera, summarizing his campaign thus far.
"I've waged a campaign focused like a laser beam on fighting for the middle class and those struggling to make it," says Mr. Weiner as images of his enthusiastic reception on the campaign trail play over his shoulder.
While he doesn't directly address the sexting revelations that have imperiled his comeback candidacy, the former congressman continues to play defense, painting himself as the anti-establishment pick in the race for mayor.
"Look, powerful voices have made it clear from the very beginning they didn't want me to win. But this isn't about what they want," he says. "They've gotten their away far too long. if you give me the chance, I will fight for you and your family every single day."
Mr. Weiner reportedly spent $500,000 on the ad buy, which comes amid sinking poll numbers in the wake of revelations that he continued sexting long after he resigned from Congress two years ago.
Watch the full ad here:
[vimeo http://www.vimeo.com/72139899 w=500&h=281]