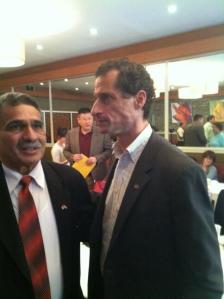 Anthony Weiner seemed quite comfortable in rather claustrophobic surroundings this morning, trying to focus on wonky policy issues as if he were a more typical mayoral candidate–rather than one trying to revive a battered bid in the wake of more embarrassing revelations.
Mr. Weiner, trying to shift the conversation, sat at the center of a roundtable in the Tandoor Restaurant in Rego Park, Queens, surrounded by various South and East Asian business owners and community leaders. As usual, the media presence matched the attendees, forming its own circle along walls adorned with mirrors.
Mr. Weiner was unfazed.
"Where'd you get that jelly doughnut?" he asked at one point, interrupting a question from one of the men across the table. He was promptly brought one of the treats, not missing a beat as he was pelted with questions about small businesses, parking meters and boosting jobs in the technology sector.
Talking with Politicker afterwards, several of the policy-minded attendees went out of their way to dismiss the scandal that has rocked Mr. Weiner's mayoral campaign over the last few weeks.
"It's sort of a very personal matter," James Wu, of American Chinese Culture and Commerce said. "I mean let's be honest. Are you going to talk to me about your sex life or things you say to other women or whatever else?"
Mr. Wu repeatedly referred to Mr. Weiner's sexually explicit conversations with Sydney Leathers, the most recently revealed recipient of raunchy photographs and messages, as "flirtatious talk." "You're talking about basically people chit-chatting and you're complaining about that," he mused. "It seems a little puritanical."
Others acknowledged that they didn't approve of his actions, but said that shouldn't tarnish his professional reputation.
"This is a different part of the life. The other side is different," said Jaagir Singh Bains, 82. "If it is a rape or something, that's a different thing. It's not acceptable, but it can be ignored I think."
"I know him as a councilman. I know him when he was a Congressman," Mr. Bains assuredly stated. "And I want him to be successful."
Mr. Weiner would surely like all potential voters–and the press–to have a similar reaction. After the meeting, he darted from the restaurant and past a fray of waiting  microphones and cameras, rushing into his car. His spokeswoman, who has been laying low since her now-infamous "slutbag" tirade earlier this week, was not present.
"Take care guys," Mr. Weiner simply offered.
And, despite the fact that it was his only scheduled event for the remainder of the day, he added, "I'll see many of you later though."