Advocates hoping to swing the election by urging voters to elect "Anybody but Quinn" gathered across the street from the closed St. Vincent's Hospital this evening for a get-out-the-vote rally they billed as an early "retirement party" for City Council Speaker Christine Quinn.
The event–which included the presentation of a series of mock parting gifts in honor of Ms. Quinn's desired departure, including a "term limit-less watch from Rolex, so that Quinn will be reminded that her time is up"–came just hours after the release of the latest mayoral poll, which cast Bill de Blasio as the clear front-runner in the mayor's race, with 36 percent of the vote, versus just 21 percent for Ms. Quinn. Attendees greeted the news with glee.
"I got tears in my eyes," said Brian Gari, 61, who was one of the more than 100 supporters who turned up for the event and cheered as the results were announced. "I'm thrilled beyond belief."
"We just don't want her to be mayor," added Mr. Gari, who, like many others, said he was motivated to join the group because of Ms. Quinn's stance on animal rights issues as well as what many perceive as her failure to do enough to stop the closure of St. Vincent's Hospital–a charge Ms. Quinn disputes.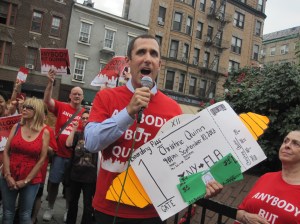 The campaign, run by a political committee called "New York City is Not for Sale" and founded by members of the anti-horse carriage group NYCLASS and other advocates, has already spent more than $770,000 on its anti-Quinn efforts–the largest independent expenditure of the mayor's race, according to the city's Campaign Finance Board.
And the group believes its efforts, including a negative ad campaign on television, are the primary reason why Ms. Quinn is no longer the front-runner in the race. "We are the single most important factor in her rise in negatives and her drop in the polls. There's not a doubt in my mind," said Scott Levenson, president of the Advance Group, which is running the campaign.
But today's rally marked a turning point for the group, which has switched its tactics from an air war to a ground war, ramping up its on-the-ground efforts during the final stretch of the Democratic primary. In recent weeks, volunteers have been phone banking, knocking on doors and passing out leaflets at subway stops, targeting neighborhoods where the group's private polling suggests Ms. Quinn's numbers are soft, including Corona, East Harlem and Washington Heights.
To motivate the troops, volunteers gathered for the vitriol-filed rally, where Ms. Quinn was slammed as a vindictive liar, who had sold out her community, among other unflattering terms. Quinn Gadfly Donny Moss called her "an old-school political boss and a school yard bully who has used her position as City Council speaker and her resources to advance her own career at the cost of the common good."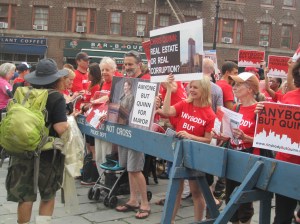 "Quinn murdered our hospital. She did nothing to save it," piled on Irene Venditti, 63, who lives in the neighborhood.
"How can another human being deny another human being paid sick leave?" asked Brooklyn's Reginald Brown, 61, who accused Ms. Quinn of dragging her feet on the legislation.
During the event, it also became clear the group's members are deeply aligned with Mr. de Blasio; each and every attendee Politicker interviewed said they were supporting the city's public advocate, if they had made up their minds.
Wendy Neu, the CEO of the Hugo Neu Corporation, who has helped fund the effort, even sounded much like the inequality-focused Mr. de Blasio when she addressed the group–dressed in matching red anti-Quinn shirts. "Far too often the concerns of the most vulnerable residents have been overshadowed by wealthy power brokers and politicians," she said, calling the poverty level in the city "outrageous" and urging attendees to vote for a "progressive candidate."
"New York City is at a tipping point," she said, "and this election will determine the path we take and ways in which we tackle the challenges that lay ahead."