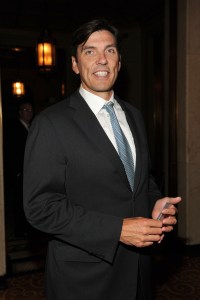 Tim Armstrong sent out a staff email today to apologize for the camera shot heard 'round the world (or at least heard by those who frequent Jim Romenesko's blog). Because if you very publicly fire your creative director for taking your picture during a charged conference call where you are announcing bad news, as Mr. Armstrong did last Friday, the least you can do is send out an apology memo.
"I am writing you to acknowledge the mistake I made last Friday during the Patch all-hands meeting when I publicly fired Abel Lenz. It was an emotional response at the start of a difficult discussion dealing with many people's careers and livelihoods," Mr. Armstrong wrote to staff in an email obtained by Mr. Romensko. "I am the CEO and leader of the organization, and I take that responsibility seriously. We talk a lot about accountability and I am accountable for the way I handled the situation, and at a human level it was unfair to Abel."
Mr. Armstrong went on to say that he had apologized directly to Mr. Lenz, although he did not say whether he reinstated Mr. Lenz at the company. Considering that the conference call was about laying off and shuttering hyperlocal Patch sites, firing Mr. Lenz may mean one less layoff to worry about.
But although Mr. Armstrong apologized for his emotional response, Mr. Lenz is somewhat to blame, according to the AOL CEO.
"Internal meetings of a confidential nature should not be filmed or recorded so that our employees can feel free to discuss all topics openly," Mr. Armstrong wrote. "Abel had been told previously not to record a confidential meeting, and he repeated that behavior on Friday, which drove my actions."
And as Keith J. Kelly wrote in the Post this morning, Mr. Lenz might have a pretty good lawsuit on his hands. Apparently, firing someone in front of over 1,000 employees is not the best move.