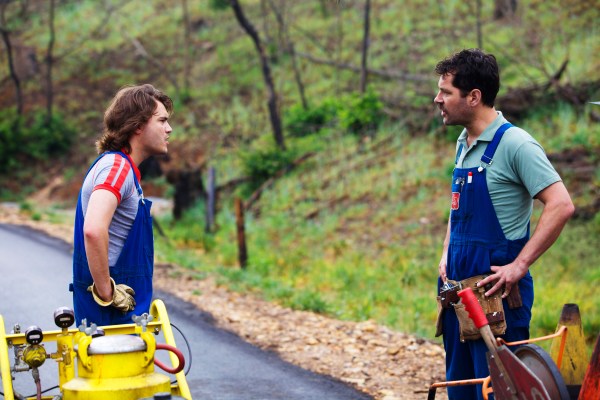 Prince Avalanche is an odd, charming, beautifully shot film whose setting plays as vital a role as the characters that inhabit it.
It is the summer of 1988, and two not-so-young-anymore men—Alvin (Paul Rudd) and Lance (Emile Hirsch)—are doing road work in and around a Texas forest recently mangled by a wildfire. They camp amid charred trees by night and paint yellow lines on asphalt by day. An air of calm—accentuated by a spare score from the post-rock band Explosions in the Sky—permeates the movie's first few scenes, as Alvin and Lance, the brother of Alvin's girlfriend, do their work in silence.
In other words, the mood here at first feels like a stark turn away from director David Gordon Green's recent efforts—Judd Apatow-inspired comedies like Pineapple Express and The Sitter—and more of a nod to the stylized power of his early films, like All the Real Girls and Undertow, for which he was compared to Terrence Malick. But it quickly becomes apparent that Prince Avalanche is instead a happy synthesis of all of Mr. Green's previous efforts, including the HBO series Eastbound & Down, several episodes of which he directed; it's a delightful mélange of the sublime and the absurd, the funny and the dark.
Mr. Rudd's Alvin is a lonely man who pines for domesticity but spends most of his time doing manual labor in the backwoods, writing overwrought letters to his girlfriend, Madison, most of them about Lance's immature behavior. The younger Lance, for his part, is less suited to appreciating nature than Alvin is. When he's not furtively masturbating in his sleeping bag, his mind—and much of his dialogue—revolves around returning to the city for the weekend to "get the little man squeezed."
The two road workers would appear to have little in common. "Can't we just listen to the silence?" they say when annoyed with one another. But as trying circumstances visit them both over the course of what is ultimately a feel-good film, it becomes clear that they may not be so useless to each other after all.
Prince Avalanche is adapted from the goofy Icelandic comedy Either Way (2011), but Mr. Green has changed its setting from Iceland's monochromatic expanse of stones, dirt and macadam to Bastrop State Park in Texas, a year after a real-life forest fire erupted. The shooting took place in spring, and, thanks to Tim Orr's vivid cinematography, Prince Avalanche is as much a rich and colorful document of a park on its way to recovery as it is a film about two confused men.
As other writers have remarked, the film has the air of a stage play, in spite of its vast setting. Like a pair out of Beckett, Messrs. Rudd and Hirsch—who play their parts with charm and wit—are alone together in the great outdoors. The fine character actor Lance LeGault, who died shortly after Prince Avalanche was completed, has a few short but highly entertaining scenes as a kooky truck driver that add to the movie's often surrealistic feel. And an old woman whose home was burned down in the fire makes some mysterious appearances, adding a mystical vibe.
On a second viewing of Prince Avalanche, I was struck by how little actually happens in it. That's not a weakness. Mr. Green has managed to turn a story about two road workers doing road work into something compelling. Sometimes that is a credit to his quirky script, but mostly it happens when he lets the dramatic scenery speak for itself.
PRINCE AVALANCHE
Written by: David Gordon Green
Directed by: David Gordon Green
Starring: Paul Rudd, Emile Hirsch and Lance LeGault
RUNNING TIME: 94 mins.
Rating: 2.5/4