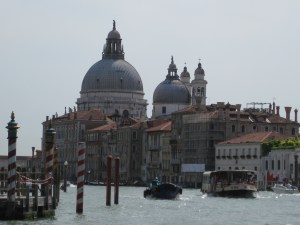 British backpackers could be vomiting in the Grand Canal. A French family with 12 Montessori-crazed children could be climbing the trellises of a charming trattoria off the Piazza San Marco. And a whole herd of bratwursty Germans could be clogging the narrow passages of Venice, like pork fat in an artery.
Pretty much nothing bothers me when traveling abroad except the nasal sound of an Australian accent, saying something stupid. This season, Venice seems to be full of them.
Why is it that our own countrymen can so effortlessly get under our skin?
Forget the stereotype of the Ugly American. True, those gum-smacking Tarheels and Cheese-Heads are traveling here, too. But even after 15 years in the US, I feel no embarrassment at their loud complaints that they can't get a Mountain Dew or a Snickers or that in the country with the best coffee in the world, they can't find a Starbucks.
But with fellow Aussies, there's still a sense of ownership. And culpability.
It was in a charming trattoria off the Piazza San Marco that I was having lunch on Friday with Jessica, my traveling companion and friend of 20 years. A young and very earnest-looking Australian couple sat down beside us, and I heard the girlfriend ask, "Could we get the Caprese salad, but with gorgonzola instead of mozzarella?"
I mean, I almost ate my baby.
The waiter—trim, 50-something, efficient—wasn't having any of it. "No," he said crisply, and turned on his Italian-leather heel to attend another table.
Australians have always been avid travelers, and their spending power has never been stronger. Their economy is enjoying a decade-long resources boom and it mostly avoided the global financial crisis—known in Australia as the "GFC" and pronounced "joi ouef soy."
So while the country becomes unattainably expensive for visitors and returning expats—almost $5 for a bottle of soda you'd get for a $1.75 in a New York bodega—for them, the rest of the world is on sale.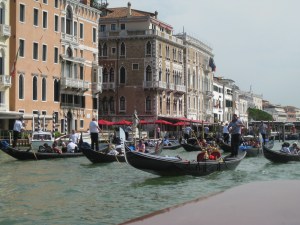 The gorgonzola remark was just settling in when a tuneful tenor voice and accordion music rose up from the adjacent canal. It was a gondola with not only a gondolier, but also a singer and an accordion player, entertaining four enormously fat tourists.
The family elder was shaded by an Australian-flag cap as his 30-ish son, who might have been 300 pounds, nuzzled with his svelte, 200-pound girlfriend for a selfie. Do you remember "Fraggle Rock?" It was like running into the Gorgs on their honeymoon.
And I wish I could the tell you the singer was giving them some Verdi for their money, but as the gondola passed our table he was warbling, "when the stars make you drool, just like pasta fazool…"
Nothing like coming to Italy for the classics.
That night, Jessica and I ate at the Tavernetta San Maurizio near the Accademia. Three Australian couples in their 60s were at a long table by the window, a little drunk, talking loudly.
"I guess every fella at this table likes blondes," said the loudest and drunkest husband, commenting on the wives. The sun-damaged women seemed quite pleased by the remark, and the prettiest one positively twinkled, like Olivia Newtown-John getting the old gang together for one last show.
In Australia we have a network of social clubs called RSLs—basically an Elks Hall with cheap beer, very noisy poker machines and a cabaret stage, in every town. And it was like being in an RSL.
As you may have sensed by now, Australians suffer from some insecurity about our sophistication relative to other countries. At home we call it the "cultural cringe." You might try and move to New York to escape it, but it turns out it comes in your bags with you when you go on vacation.
And, as that young couple observed when the waiter refused to substitute gorgonzola on their Caprese, "that isn't very noice."