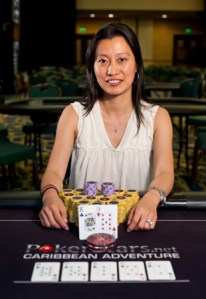 Wall Street is often called the world's largest casino, but rarely do residents take the description as literally as Steve and Kathy Saraf, amateur poker players whose day jobs involve more quotidian (and, despite their gambling successes, far more lucrative) business and finance jobs. Looking to get closer to the action, the lucky couple picked up a $3.6 million three-bedroom apartment at 200 Chambers Street.
In April Mr. Saraf rocketed from out of nowhere to take first place at the Borgata Spring Poker Open in Atlantic City, where he took home more than $150,000—not bad for someone who started the final round with fewer chips than any of his competitors, 11-1 behind the chip leader, and had never even gotten close to winning a tournament before.
And Ms. Saraf is no slouch at the card table, either. The UBS analyst finished in first place at a smaller, women-only tournament last year, raking in more than $25,000. That's on top of the nearly $30,000 that she took home at another event in 2011, which she modestly described as "some success." (When we win $40 in a half-drunken game of five-card stud, we consider that "some success.")
But they needed every penny of it, as the Tribeca market has seen massive price gains, even since the height of the last market cycle. They had to pay 50 percent more for the 11th floor unit than it cost the sellers—Melanie Feinbloom, an interior designer, and her husband Jeffrey, an immigration lawyer—when they bought it in 2007, the year the building first opened.
Douglas Elliman's Bertte Nader, who shared the listing with Sarah Burke, wouldn't speak about the buyers, but she did allow that P.S. 234, built as part of the broader complex in which the building lies, was a draw for many people looking at the apartment. (Sonia Stock, also at Elliman—last seen looking for the owner of a lost domestic rat—represented the buyers.)
"Everyone wants to be in that school," she told The Observer. "It was voted the best public elementary school in the city. And then you have Stuyvesant High School" nearby in Battery Park City. (Good luck getting in Stuyvesant though.)
Note to P.S. 345 parents: don't let your children gamble with the Saraf kids. We hear they spin a mean dreidel and have already amassed a formidable cache of Hanukkah gelt.