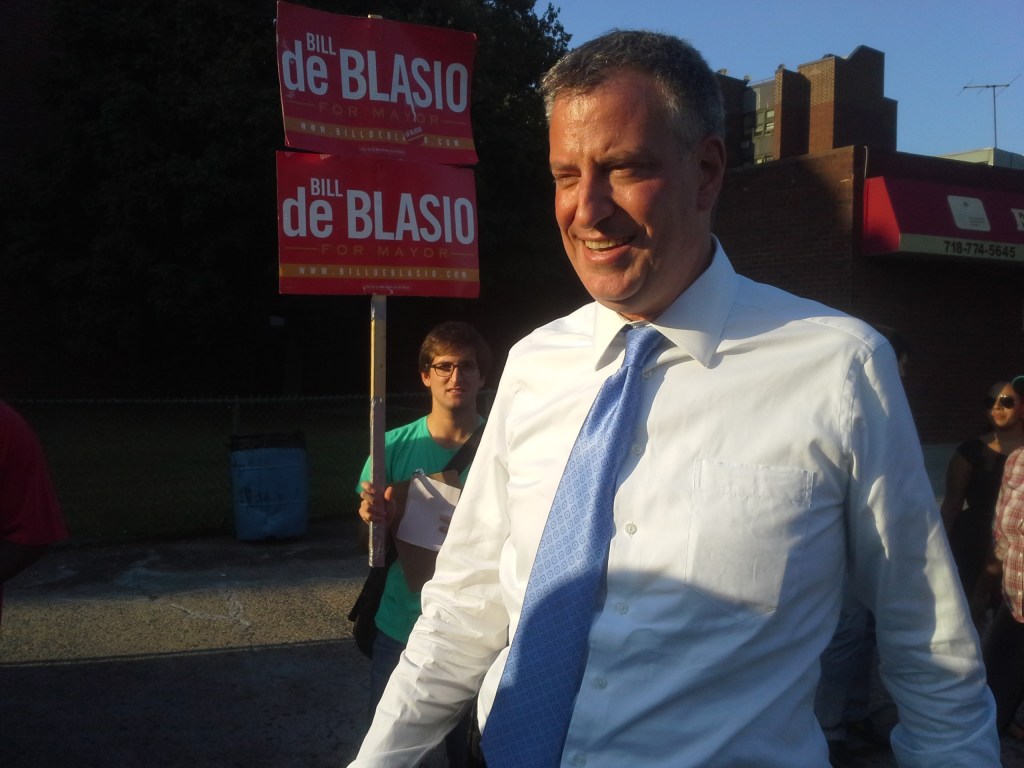 A small band of supporters by his side, Public Advocate Bill de Blasio took his mayoral campaign to the heart Bed-Stuy yesterday, hoping to woo minority voters.
"Tax the rich more!" shouted a volunteer outside the Utica Avenue subway stop, making his pitch to the commuters tumbling in and out of the gritty station. "Save the hospitals! Bill de Blasio for mayor!"
Six other de Blasio volunteers joined the city's public advocate for his meet-and-greet on what might be considered by some to be mayoral rival Bill Thompson's home turf. Mr. Thompson is not only the sole black candidate in the race, but was raised in the neighborhood, where he has deep political roots. Mr. de Blasio nevertheless insisted that he'd be scooping up plenty of support in the area.
"I'm a Brooklynite, I'm someone who has worked on issues that people in this community care about deeply," Mr. de Blasio told Politicker when asked why locals would support him over Mr. Thompson. "I think it comes down to what you believe in. It comes down to–I'll really make a change, whether it's taxing the rich, whether it's changing stop-and-frisk. And I think people are listening for that."
Mr. de Blasio touted his support of the Community Safety Act, a package of bills passed by the City Council that would, among other proposals, create an inspector general for the NYPD. The act was vetoed by Mayor Michael Bloomberg and remains deeply unpopular with police officers. Mr. Thompson, though a critic of stop-and-frisk, does not support the legislation.
"I think people are listening to those details. I often think voters are real nuanced at paying attention to the facts," Mr. de Blasio added, cutting short his appeal to shake hands with a voter.
"Talk to him! He's here to talk to you!" a volunteer barked behind him. "What are your issues?"
Many of the voters Mr. de Blasio and his aides corralled belonged to immigrants from Caribbean countries, a notable slice of the electorate that the public advocate has made a centerpiece of his campaign strategy. He and his wife, who is of Caribbean descent, often attends events like the Grace Jamaican Jerk Festival and his electoral bid recently scored the endorsements of Congresswoman Yvette Clarke, who is of Jamaican descent, and legendary singer Harry Belefonte.
Overall, the people Mr. de Blasio spoke with yesterday were open to voting for him, though many seemed to be in the process of making up their minds.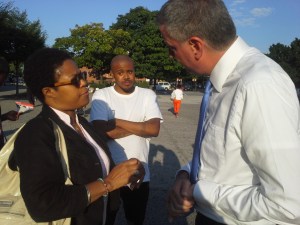 "I'm kind of torn. I know I'm not going to vote for Christine Quinn, so it's kind of a toss-up between de Blasio, Thompson and Liu," said Greg, a fitness trainer from Bedford-Stuyvesant who declined to give his last name. "I'm not excited about [Thompson] though. Just because he's a black man, that doesn't mean he's going to be the person I vote for. He hasn't clearly explained his position on stop-and-frisk."
"So far, I haven't decided yet who I'm voting for. I know who I don't like, Christine Quinn," concurred Boubacar, a Bed-Stuy cabdriver who hails from Guinea and also declined to give his full name. "She never defended us in her time in office with Mayor Bloomberg. She's a follower."
"I know about him," Boubacar said of Mr. Thompson, who narrowly lost a high-profile race against Mr. Bloomberg in 2009. "I heard about him from a long time ago."
Mr. de Blasio was scheduled to appear at a National Action Network rally a few streets away after the event, but his enthusiasm for greeting voters–at least that was what one staffer said–delayed him too late to attend.