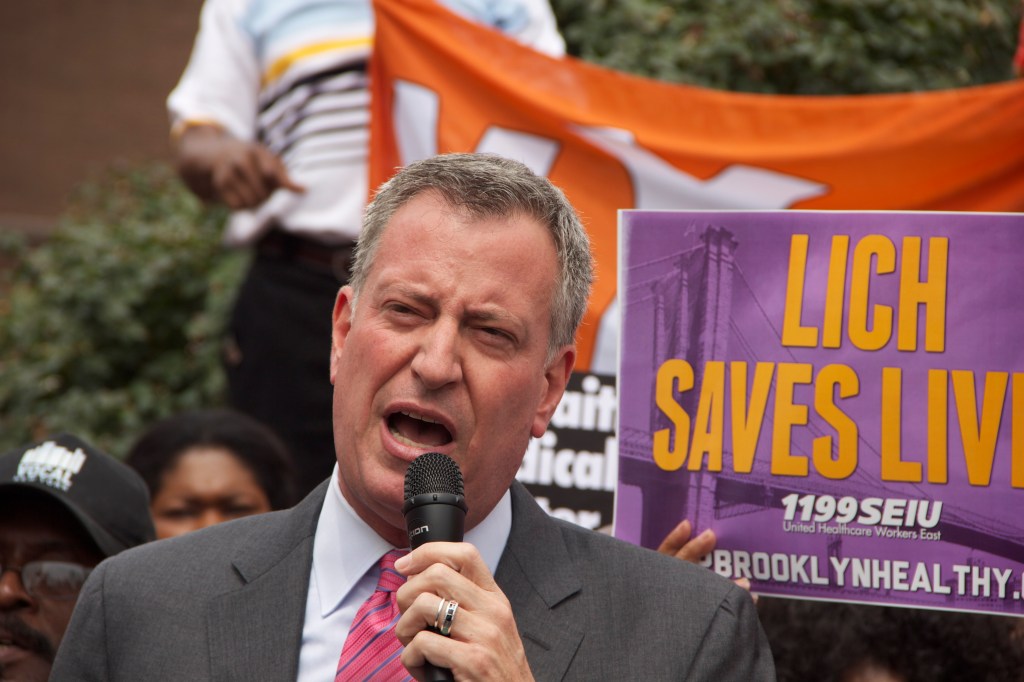 Public Advocate Bill de Blasio has actress Susan Sarandon's back.
At a press conference today with a slew of celebrity backers protesting the closing of St. Vincent's Hospital, the mayoral candidate blasted a report in the New York Post that accused the Academy Award-winner of flipping her stance on the hospital to bolster Mr. de Blasio.
"I'm a little sick and tired of attacks on Susan Sarandon," he declared after Politicker asked whether Ms. Sarandon had indeed changed her stance. "They have happened so frequently over the years because she stands up for what's right. And there's no question that she stood up for healthcare in this community."
Ms. Sarandon accused the Post of being "the only newspaper that seems to be obsessed with me" and argued that she'd never been in favor of the closing. She said she'd attended a 2008 hearing on a proposal to overhaul the facility, but "the complaint was, not whether or not it would be taken down, but the plan that was proposed to renovate St. Vincent's was already outdated," she said.
"And that's the only time I went," Ms. Sarandon continued. "And I listened to what it is because that's what you do in a democracy is go and listen to these hearings."
Mr. de Blasio's press conference came less than an hour after–and merely a block away from–a competing press conference held by Christine Quinn supporters, which ended in violence.
But Mr. de Blasio's effort featured an entourage of recognizable faces, including civil rights leader and musician Harry Belafonte, Sex and the City star Cynthia Nixon and Ms. Sarandon, who hosted a ping pong fund-raising party for Mr. de Blasio last night.
Ms. Nixon, whose mother passed away this January, stressed the importance of community hospitals, crediting Weill Cornell with helping her mother live after surviving a heart attack. "That is why I got an extra 12 years with her," she said, "because she lived five blocks from a hospital."
For his part, Mr. de Blasio blamed the controversial closing of the Greenwich Village hospital on his mayoral rival, Ms. Quinn, as well as the man both are vying to replace, Mayor Michael Bloomberg.
"I would say to Speaker Quinn: Speaker Quinn–who is the chief ally of Mayor Bloomberg? Speaker Quinn who is the head of the legislative branch of this city government, whose district St. Vincent's is in? I would ask her why her efforts did not succeed," Mr. de Blasio bellowed to the crowd, which was comprised largely of members of the 1199 healthcare workers union.
Mr. de Blasio has made fighting hospital closures a major theme of his campaign, and was arrested recently at a rally protesting the closure of Long Island College Hospital.
Ms. Quinn has long maintained she did everything she could to save the hospital.