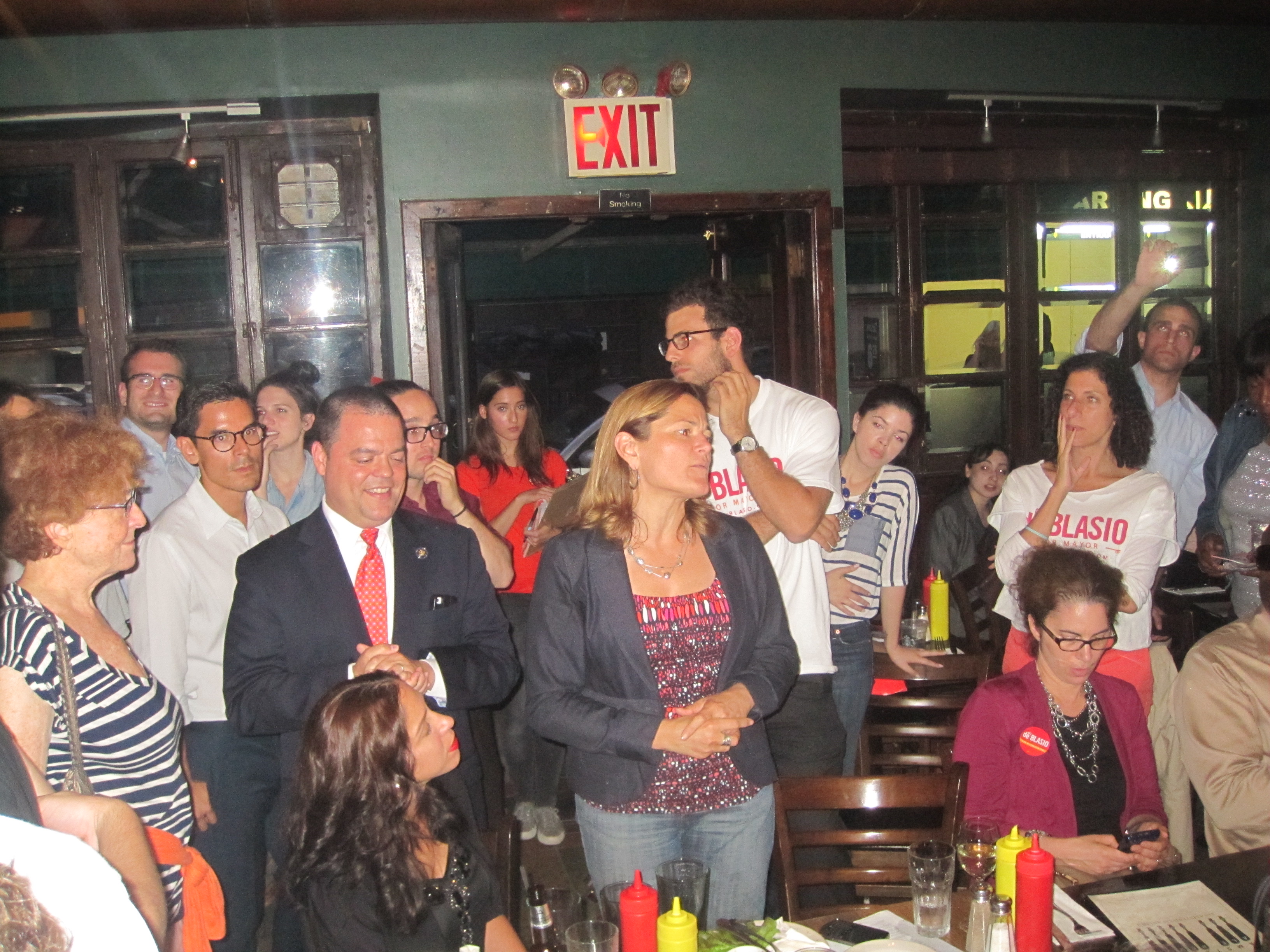 Supporters of Public Advocate Bill de Blasio gathered last night in the back room of an Upper West Side bar to cheer on their candidate in last night's first televised broadcast debate, hours after the stunning news that he had unexpectedly shot to the top of the polls.
For a mayoral campaign that many had discounted as doomed just a few weeks ago, the atmosphere at the event was one of euphoria.
"It is truly an exciting moment and we really have turned a corner," said City Councilwoman Melissa Mark-Viverito, a loyal backer, speaking to the excited crowd gathered after the heated show-down.
"Bill's not afraid to say to the wealthy, 'We want some of your money,'" added State Senator Bill Perkins, drawing applause.
But the loudest cheers were reserved for the man of the hour, Mr. de Blasio, who stopped by after the debate, greeting his "lovable mob" with heartfelt thanks.
"It's been a long, long journey, but the bottom line is the message is getting through. It's getting through loud and clear!" Mr. de Blasio proclaimed to the group. He pointed to the poll results as vindication that "what we believe in, what we're talking about for changing the city is what people want, what they need."
"Let's bring it home!" he concluded, as the crowd chanted "four more weeks!" "Alright, now enjoy your ale!" he said, dismissing them with a raised arm and flick of the wrist.
Not long after, as Mr. de Blasio was making the rounds schmoozing, his first TV ad–a testimonial from his teenage son, Dante–began playing on the flat screens dotting the bar. "Look at that hair!" he shouted, pointing to his son's famous afro with glee. "Who's the hot chick in that film?" he added, laughing loudly and pointing to his wife.
"It's a blast! it's a blast!" Mr. de Blasio told Politicker as he reveled in the moment, explaining "We're having a good day!"
"We've been laboring in the vineyards for a long, long time and it feels nice when the message breaks through," added Mr. de Blasio, who said the campaign had sensed that something was afoot. "Before today, we were getting this much, much stronger response over the last few weeks. And you know, what you experience with human beings is always way ahead of the polling. So we knew something good was happening."
Something good, he said, reminiscent of his 2009 race for public advocate, when he surged from behind late in the game, after even supporters thought he was toast.
"It was like this," he said. "In those final weeks, just something caught fire and something really started to change on the ground. And we're feeling that now."