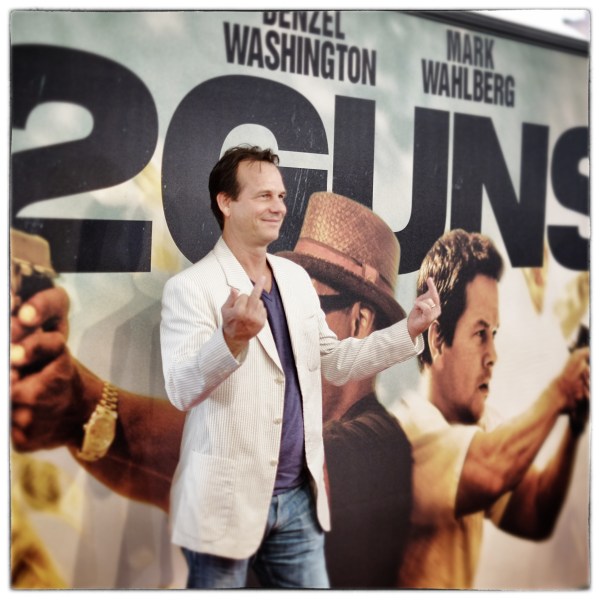 You'd never know it, but Bill Paxton is becoming quite the nerd hero. He's producing a graphic novel, Seven Holes for Air, which he hopes to have picked up by a studio so he can direct it. At Comic-Con this year, Tom Cruise pulled him up on stage during a panel for his new film Edge of Tomorrow—which recently changed its name from All You Need Is Kill—and in front of the hundreds of fanboys, the Aliens actor recited his most famous line: "Game over, man, game over!"
The assembled broke into screams and applause, practically a standing ovation, Mr. Paxton recalled dreamily. Here were people who didn't think of him as Bill Henrickson or Randall McCoy, who wouldn't say "Oh, you mean that guy from Twister?" (Or Titanic. Or worse, Independence Day …
that was Pullman.) To these assembled geek, nerds and fanboys, he'd always be Private Hudson.
Which is probably a good thing, since Mr. Paxton is really bored with the whole stoic father thing. "I'm so sick of playing someone's dad," he said over coffee at the Ace Hotel. After years of being known for playing grim, phlegmatic parental figures in Big Love and the award-winning Hatfields and McCoys, Mr. Paxton—who has a rakish Texas drawl and an excitable, almost elated attitude when it comes to sharing his interests—was technically there to talk about a smaller role he has in the recent summer buddy-cop flick 2 Guns.
He was discussing his psychopathic character Earl and the way he had improvised scenes with Denzel Washington, and it was obvious that the actor can get psyched for just about anything.
At first he was just talking about how much fun it was to work with Mark Wahlberg again—they first collaborated when Mr. Paxton cast him in his 1997 movie The Traveller—but soon he was just on a roll about playing villains.
"Like, I wouldn't want to play Batman—how can you act, with the cowl on, and that weird thing he does with his voice?—but I'd love to play the Joker."
Mr. Paxton has recently rehired his publicist to set up these kinds of meetings with the press—specifically, it seems, to put the word out there that he wants to be bad. Real bad. "I think people have forgotten that I can play those kind of parts," he said. "I thought Heath Ledger was great, really great, but yeah, that kind of movie I could do very well."
"Hey, have you seen The World's End yet?" he asked, referring to the new Simon Pegg/Edgar Wright/Nick Frost sci-fi comedy. "I love that movie. I love those guys. The movie is so funny, but there are moments of real poignancy." Mr. Paxton then went on to describe the premise of the film, in detail. Where was he going with this? Oh yeah.
"That's an Academy Award performance," he said of the two leads. "They won't even be considered, but as an actor—who does this for a living—I can tell you that you won't see better performances all year."
Right then, Mr. Paxton received an email from Simon Pegg and read it out loud: he was being invited to the L.A. premiere of World's End, and also, if he wanted to arrange a private screening for "Jim Cam" (James Cameron, Mr. Paxton's longtime friend and collaborator), the filmmakers would be happy to oblige.
We suggested that perhaps Mr. Paxton could play the creepy bad guy in the British trio's next film. "That'd be so cool," he answered hopefully, typing on his phone. Whether he was responding to our idea or just replying to the email was anyone's guess.