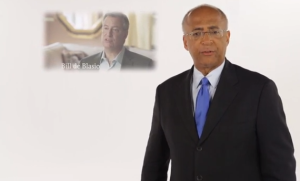 Bill Thompson, who has repeatedly called on mayoral rival Bill de Blasio to take down his "lying" television commercial, is officially taking his request to the airwaves.
In the first critical ad of the Democratic primary, Mr. Thompson again declares that Mr. de Blasio's spot "lies" when it claims the public advocate is the "only" candidate who will "end a stop-and-frisk era that targets minorities."
"Bill de Blasio's ad lies about my position on stop-and-frisk … The New York Times confirms how misleading it is," Mr. Thompson personally narrates in the ad, citing a report that accused Mr. de Blasio of playing loose with the word "only."
Mr. Thompson, who once branded himself as a relative moderate on the controversial NYPD tactic, concludes in the ad, "I'll end racial profiling in stop-and-frisk and get illegal guns off the street."
Mr. de Blasio has argued that his own ad's claim is based on his unique support for both replacing Police Commissioner Ray Kelly and the entirety of the City Council's recent Community Safety Act, which expands the definition of police profiling and installs an NYPD inspector general.
Reached for comment, the de Blasio campaign repeated these stances and attributed the Thompson attack to desperation.
"Facts are facts," campaign manager Bill Hyers said in a statement. "In May Bill Thompson said calls to reform the program were 'an over-reaction' and won praise for no less than Rudy Giuliani and the police unions for his position. Now behind in the polls he's trying to have it both ways. It doesn't work that way."
Mr. Hyers added, "Bill de Blasio is the only major candidate who has consistently called for the police reforms we need to end the overuse and abuse of stop-and-frisk. And that's a fact."
[youtube=http://www.youtube.com/watch?v=URVZbOs2W-k&w=420&h=315]
Correction (12:11 p.m.): This post initially transcribed the ad to quote Mr. Thompson saying "and stop-and-frisk" instead of "in stop-and-frisk," as a subsequent Thompson campaign transcript clarified.