Assemblyman Dov Hikind wanted every last soul in Midwood to vote for Bill Thompson.
The Brooklyn pol, a powerbroker in the Orthodox Jewish community, aggressively escorted Mr. Thompson through a Midwood shopping strip today, buying him gefilte fish, low-carb muffins and even enticing the typically demure mayoral candidate to rush into traffic and shake hands with an idling bus driver.
"Things are different, things have changed, the support now is absolutely amazing," said Mr. Hikind, comparing Mr. Thompson's support in the Jewish community today versus four years ago, when he narrowly lost to Mayor Michael Bloomberg. "You can see it on the street, from all people by the way, not just the Jewish community … The bottom line is this: I support people who I think are going to be best. I don't look at poll numbers."
Mr. Hikind endorsed Mr. Thompson for mayor yesterday over Public Advocate Bill de Blasio, whom Mr. Hikind said was a close runner-up for his backing. While the conservative assemblyman said he and Mr. Thompson did not always agree on every issue–Mr. Thompson, for example, is backed by the city's teachers' union, of which Mr. Hikind is no fan–he asserted that their close relationship, dating back 30 years, overrode any policy disagreements.
To demonstrate, Mr. Hikind whisked Mr. Thompson up and down Avenue J, shouting to men, women and children walking the streets to come meet the former comptroller.
"Come say hello! Come say hello! Bill Thompson!" Mr. Hikind boomed on the sidewalk, waving voters over.
"He's a good guy, he'll be a great mayor and a great friend," he periodically added, while yanking Mr. Thompson into kosher bakeries, a fruit market, a 99 cents store and a Dunkin' Donuts.
From the middle of the traffic-clogged street, a bus driver began honking at Mr. Thompson, who has been endorsed by the Transportation Workers Union.
"The bus driver wants a picture with you maybe?" a quizzical Thompson aide offered.
Laughing, Mr. Hikind prodded Mr. Thompson to wade into the two-way street, where a long line of cars were stopped at a red light. Mr. Hikind led Mr. Thompson to the bus driver's window, where they posed for quick pictures. They scurried from the street not long before the light changed to green and the rush began again.
Racing into a gourmet deli, Mr. Hikind pointed out the meat and pastry spreads were especially abundant because it was the day before Shabbos. "Are we getting fish?" Mr. Hikind asked, pushing the reluctant mayoral candidate to share bites of gefilte fish before they bolted for the next campaign stop.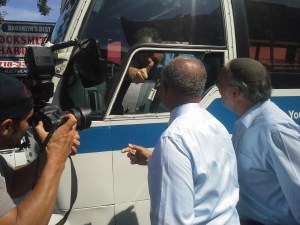 "It's going down fine," Mr. Thompson smiled as he swallowed his fish.
Throughout the visit, Mr. Hikind's sway with the community was clear. "However you want me to vote, I will vote that way," Yaacov Lederer, a Midwood resident and Orthodox Jew, told him at one point.
"That's six, six votes I got so far!" Mr. Hikind jumped. He'd previously joked that his endorsement guaranteed just four votes–those belonging to his immediately family.
As Mr. Hikind, Mr. Thompson, aides, reporters and cameramen strode up and down the block, some people hurried away, apparently camera shy. A rangy, elderly man, however, wandered up to Mr. Thompson to complain about one of his rivals.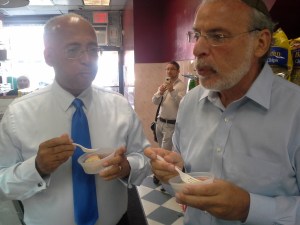 "Christine Quinn, she's giving the morning after pill to pregnant 11 year old girls," the man groused to Mr. Thompson, who quickly moved away to greet someone else.
Another voter thought Mr. Hikind would've backed another candidate.
"I thought you'd be with Anthony Weiner," the man said with a smile.
Across the street, the two Democrats ducked into a bakery, where Mr. Hikind insisted several times on buying "low-carb" muffins for the mayoral candidate. Mr. Thompson, saying he was on a diet, finally accepted the muffin offer, taking a few home to his wife. In the meantime, a jovial Mr. Hikind secured the votes of the bakery workers.
But not everyone who met Mr. Thompson and Mr. Hikind were sold on the assemblyman's vote-grabbing magic.
"God only knows," said Josh Zilberberg, an academic adviser at Touro College, when asked if Mr. Hikind could pull many votes for Mr. Thompson. "There are those who like you and those who just don't like you."