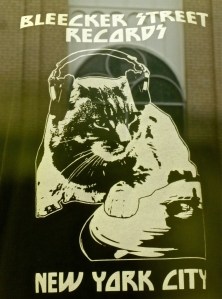 It is, at this point, a story so common, the difference in details so slight, that even the most heartfelt of tributes can take on the tone of cliche—yet another beloved independent business shouldered out by a rent increase, yet another loss for a neighborhood in danger of losing its soul.
But at least this once, the ending is bittersweet rather than tragic. Bleecker Street Records, where music lovers, vinyl aficionados and NYU kids on the hunt for posters to lend their dorm rooms an air of authenticity have congregated for the last 20 years, is losing its home to a rent increase. The good news is that it's relocating to a space nearby, on West 4th, between Sixth and Seventh, reports Jeremiah's Vanishing New York. The move is more than a little unfortunate given the business's name, but it's a far better fate than the one that befell Bleecker Bob's Records, which lost its lease to a frozen yogurt joint this spring and despite some talk of re-opening elsewhere, has yet to do so.
Bleecker Street Records was reportedly ousted from their space at 239 Bleecker by a rent increase that would have required the store pay $27,000 a month in rent. Fortunately, the store has found a new place in the neighborhood—no small feat given the escalating rents and the competition from stores intent on replicating the vibe of an outdoor shopping mall or a high-end highway rest stop: the advertisement for Bleecker Street Records' former space boasted of its proximity to Amy's Bread, David's Tea, L'Occitane and 16 Handles.
True, the heyday of record stores has come and gone, probably never to return, but if there is any place with enough of a music loving community to support one, it would be Manhattan. Fortunately, Bleecker Street has managed to land on its feet—for now. As a Bleecker Bob's employee was quoted as saying in a Spin article on the store's last days: "This is a landlord's town now."