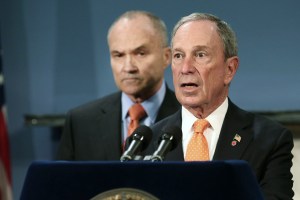 At a press conference littered with grisly imagery, Mayor Michael Bloomberg ripped apart a federal court ruling today that found current stop-and-frisk practices unconstitutional.
"This is a very dangerous decision made by a judge that does not understand how policing works and what is compliant with the Constitution as determined by the Supreme Court," Mr. Bloomberg said at a jam-packed City Hall event with Police Commissioner Ray Kelly at his side.
"I worry for my kids and I worry for your kids and I worry for you and I worry for me. Crime can come back at any time," he warned.
Mr. Bloomberg vowed to appeal the ruling, handed down by Judge Shira Scheindlin, which found that the NYPD adopted a policy of "indirect racial profiling" by targeting blacks and Latinos in far higher numbers than other groups. Ms. Scheindlin's ruling, if upheld, would place the NYPD under federal oversight, a development that Mr. Bloomberg called "disturbing."
When asked if stop-and-frisk would continue to be implemented during the appeal process and potentially into the next mayoralty, the term-limited Bloomberg bluntly implied it would.
"Boy, I hope so," he answered. "I wouldn't want to be responsible for a lot of people dying."
Mr. Bloomberg argued, as he has previously, that stop-and-frisk is a highly useful crime-combating tool that has helped drive the city's crime rate down to record lows. He warned that any oversight from a federal monitor or local inspector general would horribly complicate the ability of the NYPD to stop crimes in progress and undermine the chain of command.
"We have enough problems now. You're a police officer, you have to know what orders to follow," he said. "If somebody pulls a gun and you want to get home to your family you don't have a time to say, 'Well, wait a second, the commissioner said one thing, the monitor said another and the IG another. By that time, you're dead.' And I'd like to see you go to the funeral to explain to the family why their son or husband or father is not coming home at night."
Mr. Bloomberg also raged against the City Council for passing a package of bills, known as the Community Safety Act, which would create an inspector general for the NYPD and expand the definition of profiling. And he argued that, in light of the federal ruling,  having an inspector general for the NYPD would be nonsensical.
"It sort of defies imagination that the City Council would go on with one of the worst pieces of legislation they've ever come up with," he said. "Why on Earth would they pass this after what the judge said?"
Later, Mr. Bloomberg brushed off a question from Politicker about how this ruling–the latest in a series of legal setbacks to his attempts to implement various wide-reaching policies–would be harmful to his legacy.
"I don't know," he responded "Almost 12 years now, people have walked the streets of New York City without having to look over their shoulder. I suspect probably that's a pretty good legacy."