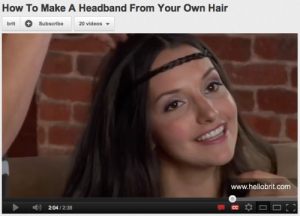 Professional summer camp crafts instructor Brit Morin has put her freshly earned $6.3 million series A to good use, scooping up a new 9,700 square foot office in the heart of downtown San Francisco. According to the San Francisco Business Times, Ms. Morin and team signed a 3-year lease for an office on Sutter Street near Union Square, and will be moving there from their current digs located at aisle 5 of your local A.C. Moore.
Since its inception in 2011, Brit + Co. has grown from a "bootstrapped" vanity project to a VC-funded vanity project.
Emerging from the Pinterest part of the Matrix to address the new office space, Ms. Morin pointed a glue gun at the camera and said, "Pew pew."*
*This did not actually happen.