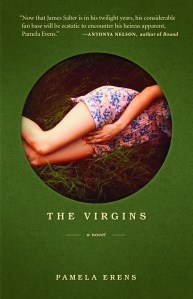 Pamela Erens's new novel, The Virgins (Tin House Books, 288 pp., $15.95), is one explicitly concerned with narrative. Set in 1979 at a New Hampshire boarding school called Auburn, its narrator, Bruce Bennett-Jones, confesses up-front that the story he's unspooling—that of a highly visible and ultimately doomed romance between two students, a Korean-American man, Seung Jung, and a Jewish woman, Aviva Rossner—is largely one he has imagined. "They meet in music theory," he tells the reader of Aviva's first encounter with Seung. "Let's say that."
He follows Aviva, in his mind, where he cannot physically go: to an on-campus girls' bathroom "where she looked into the mirror and saw the blurred face that always frightened her. She thinks her features are ill defined, that she is too pale; the eyes of others will sweep over her and not linger"; backward in time to her adolescence in Chicago, where "every morning [she goes] through the ritual the makeup lady taught her. The special soaps for cleaning, the dabbing on of foundation, the painstaking combing of mascara onto each lash."
But as seamlessly as Bennett-Jones is able to inhabit Aviva's mind in his own, his encounters with her in the physical world of the novel are decidedly more fraught. When Aviva interrupts his reverie with actual speech—trying to get his attention with a "Hello?"—the narrator reflects, "For a moment there I wasn't gazing at her, wasn't absorbed in her, so busy was I with my tale."
This realization excites him; he wants to revel in this control. "I like seeing her a little weak, a little uncertain." Making someone else a character in a narrative hinders one's ability to see her as  human.
This is a truth Bennett-Jones will understand later. "Over the years," he tells us, "I've come to understand that telling someone's story—telling it, I mean, with a purity of intention in an attempt to get at that person's real desires and sufferings—is at one and the same time an act of devotion and an expression of sadism. You are the one moving the bodies around, putting words in their mouths, making them do what you need them to do. You insist; they submit."
But he hasn't learned that yet in Auburn in 1979, which is how he ends up, in the novel's first act, attacking Aviva in the school's boathouse. He backs her against a wall, pulls down her sweater, revealing her bra: "The lacy layers in the cup are a signal that I am meant to continue," he thinks, reading her clothing like a text, ignoring the more obvious signs: "She wriggles under me and tells me to stop it, to cool it, but I pay no attention, I'm too far gone." He treats her like she's an object of his own creation, which, for most of Ms. Erens's novel, she is.
What happens next is a clue to the questions of narrative control Ms. Erens is asking her reader to consider, a clue to the importance of the novel's setting: the novel's narrator (white, male) versus the subjects of his narration (nonwhite and female, respectively). Aviva gets away and warns Bennett-Jones that if he touches her again, she'll involve the school's disciplinary system. "I have never heard," the narrator tells us, "a girl say the words disciplinary system before." He goes on: "At that time I am used to thinking I have more than one chance at things, many chances, in fact. … This time, for the first time—though not the last—I know I've truly blown something. I don't know how I know. It's an unfamiliar feeling." This is perhaps not so unfamiliar a feeling for either Aviva or Seung.
Ms. Erens's sentences are lucid, even simple, but they are not boring. She is writing under the clear influence of James Salter—one of Aviva's professors is named Mr. Salter—specifically his novel A Sport and a Pastime, which is similarly an explicit and (at least) quasi-imagined account of a love affair the reader intuits will end badly. (In Mr. Salter's novel, the American, Philip, will leave his French lover, Anne-Marie; here, we're warned that Seung dies.)
This influence makes for a bounty of lovely, insinuating writing: "I know that certain men, like Seung, do not defend themselves when it would be better if they could. And certain women, like Aviva, can't find in themselves the thoroughgoing surrender that they think would make them happy and whole." At its best, sinking into Ms. Erens's prose feels like slipping underwater, in a lake, in the dark: at once gradual and startling; the world outside the novel seems to give way entirely to the world within.
These moments make up for those few times when Ms. Erens resorts to cliché. As Aviva's anxiety mounts, she stops eating and grows thinner. She is an unnecessary addition to the ranks of heroines who picturesquely waste away, even if this does give Ms. Erens opportunity for dishearteningly perceptive observations about the young woman's fraught relationship with hunger: "Sweets, peanut butter, the tin filled with sugar in Auburn's dining hall: They fill her now with dread and longing. She no longer trusts herself. At times she worries that if she starts to eat she will never stop."
And if Ms. Erens is not precisely reinventing, she is subverting, questioning. Mr. Salter's narrator's obsession with the younger couple makes him, within the context of the novel, an object of pity. Bennett-Jones's manipulations read as more obviously cruel; everything about his privileged position, with respect to his subjects, makes him believe that, if he cannot have Aviva, he can at least have her story. There are hints this isn't true: Masturbating to an image of her, he finds her dissolving into a generic woman until this imagined Aviva gets on top, "towers above me, as if to say, all right, I can have her, but she is going to be the one in charge." But the joke, such as it is, is ultimately on Seung and Aviva. Believing he controls Aviva's story is as damaging as anything that actually happens between the couple.
Perhaps it is going too far to say that The Virgins is primarily about the fundamental flaws of white, male narrators in fiction. It is also about sex, fear—especially of authority—class, desire, shame and jealousy. But in reveling in the power of narrative, the book asks the reader to think about who is—and who has been—allowed to wield it.
editorial@observer.com