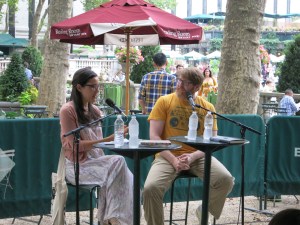 There are two reasons why Chuck Klosterman wrote his new book, I Wear the Black Hat: Grappling With Villains (Real and Imagined), an essayistic examination of—you guessed it—villainy in popular culture.
One was because he signed a two-book contract with his publisher, Scribner, he told a crowd at the open-air Bryant Park Reading Room last week in conversation with the writer Sloane Crosley.  (Leave it to Mr. Klosterman to state the obvious.)
Two was a little more nuanced. Mr. Klosterman began writing The Ethicist advice column for The New York Times Magazine last year, which got him interested in the idea of villainy and the subtle shadings that blur its meaning. This book—which comes in the wake of his second novel, The Visible Man (2011)—is "almost a natural extension of the maturation process," he said.
"At some point," Mr. Klosterman noted, "I felt I related much more closely to people who were framed as villains."
That's not to say he looks—or acts—like one, at least not in the stereotypical sense. Mr. Klosterman's puffy red beard is immediately disarming, and last week he wore thick-rimmed glasses, a yellow T-shirt with a boombox stencil and cream Chuck Taylors. He resembles a 41-year-old skateboarder and speaks like a doctoral candidate who's just taken a few bong hits.
But if Mr. Klosterman—one of the country's most influential pop culture critics—sees Darth Vader as the most "authentic" and "intriguing" character in the Star Wars trilogy, his new book makes clear that the notion of villainy is a little more complex than we may think.
I Wear the Black Hat, Mr. Klosterman said, is a sympathetic look at bad guys.
"Villains seem less bad as you become adult," Mr. Klosterman said, "because you know that a lot of the choices you make in your own life aren't always yours."
But why, Ms. Crosley asked, are so many of the villains in his book men? (Lizzie Borden—of "40 whacks" fame—is the only female included.)
"This wasn't supposed to be an encyclopedia," Mr. Klosterman explained. And can you imagine the blowback, he added, if he'd filled a book about villains with women?
The leitmotif that runs through Mr. Klosterman's book is this, as Ms. Crosley pointed out in Bryant Park: "The villain is the person who knows the most but cares the least."
Even if you disagree with the idea, it's hard not to be impressed by its simplicity.
"The things I write about are impossible to solve," Mr. Klosterman said, which extends to the ethics column that has stoked quite a bit of controversy since he started writing it a little more than a year ago. (College professors were not pleased, for instance, when Mr. Klosterman argued that a student could ethically use the same paper for multiple college courses.)
The reason he can look at each case objectively, Mr. Klosterman noted, is because he has "no emotional investment" in the matter at hand.
"But," Ms. Crosley was quick to add, "you still care the most."