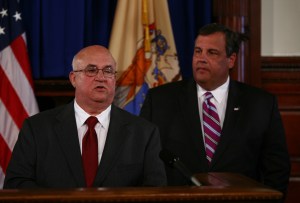 LONG BRANCH – Gov. Chris Christie says he's "gratified" some Democratic lawmakers expressed a willingness to give his latest nominee to the state Supreme Court a confirmation hearing, but the governor denies ever offering his nominee the position in the past.
The governor said during a Tuesday news conference that he never asked his latest nominee to the state's high court – Judge Faustino Fernandez-Vina – to serve on the bench three years ago. Christie's response comes after several Democratic sources told PolitickerNJ last week the state's top Senate lawmaker told his caucus Fernandez-Vina declined an opportunity to serve on the bench after first being tapped as a possible replacement for former Justice John Wallace Jr.
According to the Democrats, Senate President Steve Sweeney told his caucus the judge's disinterest in replacing Wallace, who found himself at the center of controversy when Christie chose not to reappoint him in 2010, showed Fernandez-Vina is his own man and should get a hearing from the Senate Judiciary Committee.
The story spurred at least two veteran Democratic lawmakers who sit on the committee that ultimately decides if a nominee has an opportunity to serve on the high court to say publically they will be willing to consider Fernandez-Vina's conformation.
However, Christie denies the opportunity was ever presented to Fernandez-Vina.
"I'm gratified that they're willing to do that and I hope they get to his conformation quickly," said Christie, who went on to say Fernandez-Vina has already been confirmed before the committee twice for other judicial positions and is a "well deserving person" to serve on the Supreme Court.
"[But] I can tell you this, I never offered a Supreme Court seat to Judge Fernandez-Vina before two weeks ago," Christie said. "So, I don't know where that story comes from but I never offered him the job."