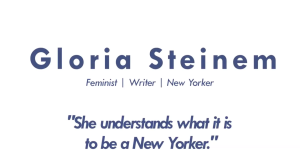 Two days ago, Council Speaker Christine Quinn pivoted away from the Anthony Weiner brouhaha by pointing to the fact that if she emerges victorious from this year's mayoral race, she'd be the first woman to occupy Gracie Mansion.
In a new online advertisement today featuring political activist and feminist Gloria Steinem, the Quinn campaign continued this focus.
"Imagine how much it will mean to girls and young women–and young men too–to see that it's possible to have a woman in what is always said to be the second most important job in this nation," Ms. Steinem says to a tightly-zoomed camera.
A press release accompanying the link to the video outlines Ms. Quinn's strategy to capitalize on female voters during the 40 remaining days before the primary.
"Women for Quinn also launched a multi-pronged effort to energize female voters to elect Quinn," the statement reads. "The effort includes online social media advertising, a targeted female GOTV effort, and a serious of community-based outreach effort to make the case to voters that the most qualified and accomplished candidate in the race would also be the first woman to hold the office of Mayor of New York City."
Watch the full advertisement below:
[youtube=http://www.youtube.com/watch?v=wFYAqlrlLmg&w=560&h=315]