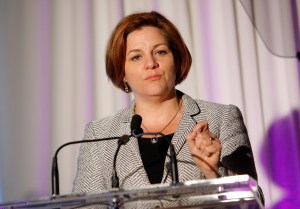 With only three weeks left until primary day, the mayor's race has just hit a new fevered pitch.
Today, New York Times columnist Maureen Dowd quoted Bill de Blasio's wife, Chirlane McCray, criticizing her husband's rival, City Council Speaker Christine Quinn, calling her "not the kind of person I feel I can go up to and talk to about issues like taking care of children at a young age and paid sick leave." (Update: the de Blasio campaign  said she was misquoted, see below for details.)
The remark, which comes as the contest becomes increasingly nasty, prompted a furious statement from the Quinn campaign criticizing Mr. de Blasio for discriminating against childless families.
"I have spoken fondly of Ms. McCray and Mr. de Blasio's family. It's unfortunate that they cannot do the same about mine –no matter how different it might be from theirs," Ms. Quinn said. "But for anyone who is interested, I have a large, loving family of Catullo's and Quinn's, with 10 nieces and nephews who I absolutely adore, like [they're] my own."
Levia Prieto, the mother of Manny Lanza who has starred in Ms. Quinn's ads praising her legislative work on behalf of "Manny's Law," piled on as well.
"When I lost my son, the first person who called me out of concern for what she could do to make sure that what my family went through never happened to anyone else was Christine Quinn," Ms. Prieto said. "I take great offense as a mother to Ms. McCray's attack on Christine Quinn and the suggestion that because she does not have children, you can't talk to her about what its like to raise a young family."
Ms. Quinn, who married her wife last year, is vying to be the city's first female and openly gay mayor. Ms. Quinn–and recently her wife–have  been open about the couple's decision not to have children–at least not yet.
"You know, of course, people in relationships always have those conversations. It just, in different ways, never quite came together for us," Ms. Quinn recently told Politicker in an interview about her candidacy. Asked whether that could change in the future, Ms. Quinn said, "You never know what's in God's plan."
She also rejected the idea that not having kids made it any more difficult to connect with parents.
"I'm mindful of whatever exchange I'm having with someone that if I don't have that same experience to ask them to tell me about their experience. I'm never going  to assume I know what it's like to be in a situation I've never been in,"  she explained. "And I think as long as you know that, you're not at a disadvantage, because then you're actually asking that New Yorker to help you and to take you to the best understanding you could have of that experience."
Assemblywoman Deborah Glick, who endorsed Ms. Quinn, further labeled the remark "homophobic" on Twitter and said that Ms. McCray, who once identified as a lesbian, "knows better.
Update 11:40 a.m.: Reached for comment, the Mr. de Blasio's campaign said Ms. McCray was misquoted in her New York Times interview.
"Chirlane McCray was misquoted,"  de blasio campaign manager Bill Hyers said in a statement. "As the transcript makes clear, her actual comments were about Speaker Quinn's unwillingness to listen to the people on education, and paid sick leave, and any suggestion otherwise is disingenuous and absurd."
"I don't see her speaking to the concerns of women who have to take care of children at a young age or send them to school and after school, paid sick days, workplace, she is not speaking to any of those issues," Ms. McCray actually said, according to audio released by the campaign. "What can I say? And she is not accessible, she is not the kind of person that I feel that you can go up and talk to and have a conversation with about those things."
Asked for a response, a Times pointed to the updated article.
"An earlier version of this column incorrectly quoted a response by Chirlane McCray, the wife of Bill de Blasio to a question about Christine Quinn," a correction reads. "The column has been updated to reflect the full response."
View the Quinn camp's full release below:
"There are women all across the City who don't have children for any number of reasons, whether they simply can't, choose not to, or circumstances don't afford them the possibility. I have taken a number of shots in this race from the men running against me, and I accept that as par for the course in a political campaign. But to criticize me as not understanding what young families go through because I might not have children, is over the line and I take great personal offense to the comment, as does my wife. As young teenage girls, both my wife and I lost our mothers and the decision to have children is a deep and personal one that we should be afforded the opportunity to make, without aspersion.

Here's what I know about raising a young family: I know that young families struggle every day to provide for their kids, make sure they have a good education, and can afford to give them everything they need. It's why I led the fight for mandatory kindergarten city-wide, it's why I increased the number of pre-K slots available in New York City, it's why I have been a staunch advocate for ensuring that children get access to breakfast at school, and it's why I have made reforming our public education system one of the cornerstones of my campaign.

I have spoken fondly of Ms. McCray and Mr. de Blasio's family. It's unfortunate that they cannot do the same about mine –no matter how different it might be from theirs. But for anyone who is interested, I have a large, loving family of Catullo's and Quinn's, with 10 nieces and nephews who I absolutely adore, like [they're] my own."

Additionally, Levia Prieto, mother of Manny Lanza, namesake of Manny's law issued the following statement:

"When I lost my son, the first person who called me out of concern for what she could do to make sure that what my family went through never happened to anyone else was Christine Quinn. I take great offense as a mother to Ms. McCray's attack on Christine Quinn and the suggestion that because she does not have children, you can't talk to her about what its like to raise a young family.

The only candidate in the race for mayor who took the time to talk to me about what it was like raising and losing my son, was Christine Quinn."
Updated (11: 40 a.m.): With recent remarks from Ms. Quinn and the de Blasio campaign. Additional reporting by Jill Colvin