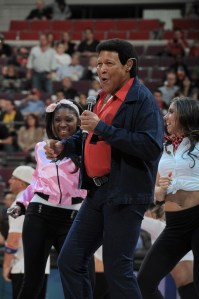 It's hard out there for a 1960s R&B star, especially when his name is another word for an erection.
In February, we learned that Chubby Checker was planning to sue Hewlett-Packard for $500 million on the grounds that the company profited from his likeness by creating a dick-measuring app called, you guessed it, Chubby Checker. 
On Thursday, U.S. District Judge William Alsup ruled that the star can move forward with trademark infringement claims against HP, Reuters reports. He now has a chance to refile the lawsuit and try to move forward on the trademark infringement claim, although HP tried to have it dismissed.
The app works by using shoe size to nail down just how much heat a man is packing in the trouser department, Reuters says. You can see why the aging rocker would want to keep his personal brand separate from something so phallic, but you have to admit the name is hilarious.