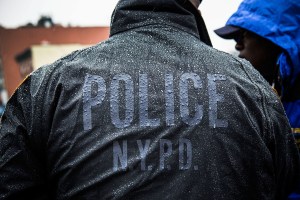 The City Council has voted to override Mayor Michael Bloomberg's veto of two controversial bills aimed at reining in the NYPD's controversial use of stop-and-frisk.
Despite aggressive attempts by Mr. Bloomberg and Police Commissioner Ray Kelly to peel away support, a bill to create an independent inspector general to oversee the department passed 39-10. A second bill, which would extend the definition of racial profiling and allow those who feel wronged to sue in state court passed 34-15.
The vote came after a lengthy and emotional vote in City Hall chambers, where members spoke personally and passionately about the impact of stopping hundreds or thousands of largely black and Latino men–the vast majority of whom are never charged with a crime.
"This is a victory that comes in the wake of a lot of pain, a lot of hurt," said Councilwoman Melissa Mark-Viverito. "We will be making history today."
Today also marked the eve of the anniversary of Rev. Martin Luther King's march on Washington, noted Councilman Oliver Koppell, who like others, turned to famous speeches to convey the importance of the decision: "Today we vote to realize—or at least move in the direction of realizing—that dream."
In the last moments, Councilman Jumaane Williams, the bills' most visible and vocal sponsor, teared up as he thanked his colleagues for lending their support.
"My father would be proud," he said, his voice cracking. "I proudly vote aye," he concluded, as the majority of the council rose to give him a standing ovation.
"I think your father is enormously proud of you," City Council Speaker Quinn told him after the votes were cast. Ms. Quinn, a leading Democratic mayoral contender this year, opposed the profiling bill but still allowed it to pass–a first during her tenure.
But the decision quickly drew a round of lashing from those in opposition, including Republican mayoral candidate Joe Lhota, who is sure to make support for the bills a key campaign issue if he makes it past the primary. "I am absolutely outraged by the City Council's vote today to override Mayor Bloomberg's veto," he said in a statement, slamming the overrides as "an appalling display of political pandering at the expense of New Yorker's safety."
Mr. Bloomberg's response to the "deadly" decision to pass the bills was even more sharply-worded.
"Make no mistake: the communities that will feel the most negative impacts of these bills will be minority communities across our city, which have been the greatest beneficiaries of New York City's historic crime reductions," he said, describing the support as "an example of election year politics at its very worst and political pandering at its most deadly. "
He was especially critical of the racial profiling bill, arguing that profiling is already against the law: "It is a dangerous piece of legislation and we will ask the courts to step in before innocent people are harmed."
One of the 'no' voters, Councilman Eric Ulrich, said New Yorkers would come to "rue the day" the chamber overrode the veto.
The decision comes as the debate over stop-and-frisk has become one of the defining issues of the mayor's race. Only Public Advocate Bill de Blasio is in favor of both bills–a distinction he has repeatedly touted in TV ads and in debates–and which some have credited for his recent jump in the polls.
But Ms. Quinn's campaign has also tried to push her efforts on the issue.
"After months of empty rhetoric from others, Quinn gets results on reforming stop & frisk," her campaign blasted in a release after the vote.