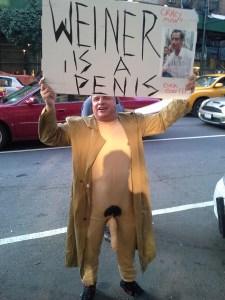 They let it all hang loose.
A man in a raunchy anti-Anthony Weiner costume and another with an anti-gay message against Council Speaker Christine Quinn crashed rallies outside of ABC's studios in anticipation of tonight's televised mayoral debate.
"He's a flasher on the internet and he shouldn't be running for office," said Charles Castro, an Astoria resident inspired by Mr. Weiner's sexting scandals to wear a costume depicting a man opening a trench coat to reveal his penis. "He's a crazy man. It's despicable, it's a slap in the face to New York City."
Mr. Castro, a security guard by trade, struck an ironically serious tone with Politicker despite his lewd get-up. He said he had a candidate he was supporting in the race but declined to name who it was. Instead, he simply insisted that it was the second wave of Mr. Weiner's sexting scandal that drove him to buy such a costume.
"It just reminded me of him," Mr. Castro said of his cheeky get-up. "I saw this online and, 'You know what?' I said, 'This is Weiner' … That put the icing on the cake, when I thought about the additional texts. Hopefully, this'll put the icing on the cake for these people."
Not far from Mr. Castro stood Coney Island resident Roman Shusterman, a Weiner supporter claiming that Ms. Quinn's candidacy–she would be the first openly gay and female mayor if elected–was all a part of a "war on straight men."
"It's like in Russia, the gays are spreading propaganda and the gay agenda and also the lesbians are taking our girls away, that's another thing–Christine Quinn wants all the girls for herself," claimed an offensive Mr. Shusterman, holding a sign that read, "Christine Quinn hates straight men! Vote Weiner."
"Weiner, for a straight guy, that's why he's being attacked, because he likes girls," he alleged. "Weiner is being attacked for just showing his wiener … We have to go on the offensive, we have to take the Weiner agenda onto the subways. Why can't we take our wieners out and show them on the subways?"
Update (1:22 PM): It turns out Mr. Castro, who has a checkered past as an ex-cop, was also a candidate for the State Senate in Queens 11 years ago.